Do you know what Safesidetab Fix is?
Safesidetab Fix is a questionable third-party search engine that you should avoid at all times. The first indication that this dubious program is already active on your computer is a change of your web browser's default settings without any notification. It is known that this search provider affects major web browsers such as Google Chrome and Mozilla Firefox. This rather broad compatibility means that a large number is at risk of getting their PC infected with Safesidetab Fix. It is crucial to note that having this search engine fully active on your computer, will make your overall web browsing experience an annoying and frustrating one, to put it mildly. In this article, we provide our further findings about various activities of this questionable search provider along with a comprehensive removal guide that you should use to get rid of Safesidetab Fix entirely.
As mentioned earlier Safesidetab Fix will alter some of the default settings within your web browser; it will modify your default search engine and new tab page. These changes will take place without any notification, whether you like it or not. It goes without saying that having this dubious program active on your computer will only result in frustration and annoyance. This is so because for as long that this search engine is active you will have no choice but to use the newly appointed provider for all your online queries. Virtually the same thing will happen with the new tab page. This devious program will alter your new tab page; thus, every single time you decide to open a new tab, you will be presented with a questionable third-party website. It needs to be mentioned that such annoyance cause by Safesidetab Fix entirely is not the worst thing about it. Upon further investigation, it has been discovered that in some cases using the devious search engine, could have certain dangers. As it has been found out that some of the results presented by this search provider could be implemented with redirect link, meaning that by clicking on a seemingly harmless search result you could end up on a devious site which could turn out to besting malicious software. Sometimes just entering such website could have detrimental outcomes, to say the least. It should be more than obvious that running Safesidetab Fix entirely on your computer is a risk that you should not take. Make sure to delete it since it the only way that you can regain the default settings of your web browser.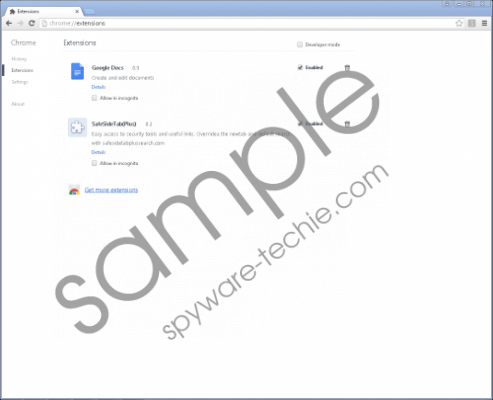 Safesidetab Fix screenshot
Scroll down for full removal instructions
It is also important to note that Safesidetab Fix entirely is usually distributed in a questionable way - via software bundles. Such means of distribution are rather common among malware developers. Thus, if you already have this devious application active on your computer, make sure to check your entire operating system for other devious programs. If any questionable applications are found up and running on your computer, they should be removed along with Safesidetab Fix without any hesitation. It is important to take preventative measures to avoid getting your PC infected with this or any other suspicious programs. First of all, you should obtain your software from official vendors' websites only as they do not tend to provide installers filled with dubious applications. Make sure to bypass all third-party download sites as they are the main source of bundles installers. In addition to this, you should also pay your utmost attention to every single installation procedure as you might be presented with an opportunity to cancel the setup of some undesirable program. Last, but not least, make sure to install a professional antimalware tool if you do not have one already. Such a tool is an imperative part of your overall virtual security since it can identify, warn, and terminate any threat in advance. By taking these preventative steps, you will be able to maintain your computer fully secure at all times.
The complete removal of Safesidetab Fix is crucial since it is the only way that you can restore the default settings of your web browser. It is important to note that you must remove every single bit to this devious program. Otherwise, the changes made by it will continue to ruin your online activity in numerous ways. To be sure that everything associated with Safesidetab Fix has been terminated successfully, you need to execute an in-depth analysis of your personal computer for potential leftovers related to this intrusive search engine.
How to remove Safesidetab Fix from your computer
Google Chrome
Start your web browser.
Click the Chrome Menu button.
Select Settings and click Show advanced settings.
Select Reset settings and click the Reset option to confirm your choice.
Mozilla Firefox
Launch your web browser.
Select the Menu button and click the question mark icon at the bottom.
Select Troubleshooting Information and click Refresh Firefox.
Click Refresh Firefox to confirm your choice.
Internet Explorer
Open your web browser.
Click the Menu button.
Select Internet Options.
Select the Advanced tab.
Click Reset and check Delete personal settings.
Click the Reset button.
Click Close.
In non-techie terms:
Some users might not be comfortable performing manual removal and analysis of their operating system for leftovers associated to Safesidetab Fix. If you happen to be one of those users, do not worry. Malware researchers working at Spyware-Techie.com have crafted an alternative removal guide. Follow the instructions that we present below and you will be able to delete this unwanted search engine in an automatic manner.