Do you know what SafeSearch Incognito is?
If you ever happen to come across a program known as SafeSearch Incognito, make sure not to download or install it. While this application is not malicious, it has been classified by malware experts working at Spyware-Techie.com as one more potentially unwanted program. Such classification has been made due to this program's rather invasive functionality, which could even lead to unwanted outcomes. Another major reason for such categorization has been its suspicious distribution. To learn more about the potentially unwanted program in question, to understand its inner workings, and why we urge you to avoid it and remove it, make sure to read the rest of our detailed report. Besides such information, we also provide a comprehensive removal guide that will help you delete SafeSearch Incognito without encountering any major problems.
During the analysis of SafeSearch Incognito, our malware experts have noticed that this potentially unwanted program functions in an aggressive manner, to put it lightly. On its official website it is advertised as a great tool to improve your online searchers; unfortunately, it exhibits functionality, which is quite different. Right after it is installed on your personal computer, it embeds your web browser with a suspicious third-party extension. This browser plug-in is critical to the overall functionality of this program since it triggers alterations to your browser's default settings. One of the most annoying things in regards to such functionality is that you are not notified about any of the alterations. The potentially unwanted program modifies your default home page, new tab page, and search engine. While at first, these changes might not seem like a lot, you will gradually realize their negative effect on the way you experience the web. That is so because for as long as this dubious application will be active on your personal computer, you will be forced to use a suspicious third-party web site as your default homepage every single time you will start an online session. The same thing will happen in regards to your new tab page. Instead of seeing a blank page, you will be presented with that same suspicious web page. On top of that, you will be forced to use a questionable search engine for every online search, which could present you with tons of undesirable results, whether you like that or not. It is not hard to imagine that browsing the web the way you are used to, will be impossible due to SafeSearch Incognito; thus, its complete removal is crucial and should not be delayed under any circumstances.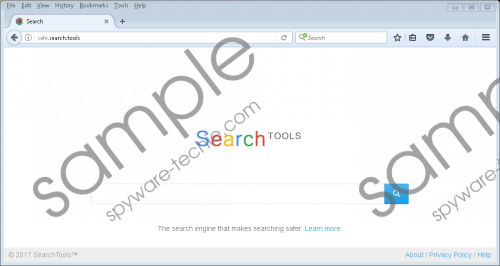 SafeSearch Incognito screenshot
Scroll down for full removal instructions
While the invasive functionality of SafeSearch Incognito should be a reason enough to remove it, you must also know that there is something much more alarming about this potentially unwanted program. Further analysis has revealed that this suspicious application could be distributed via bundled installers, which is a dangerous instance. It is quite likely that other questionable applications could come along with the potentially unwanted program in question; therefore, we highly advise you to check your PC for any devious software if you already have SafeSearch Incognito active on your computer. Another dubious thing about this potentially unwanted program is that by using the newly appointed search engine, you could subject your operating system to devious and even malicious web content. That could happen because the search engine might present you with modified search results, which could redirect you to questionable third-party websites. You could end up on a site that hosts malicious software and that alone might have disastrous outcomes. In other situations, you could be subjected to fake online stores, which are crafted for a sole purpose of stealing your credit card data or other sensitive information. It goes without saying that you should not take any risks with SafeSearch Incognito and conduct its complete removal since it could prove to be a virtual threat.
Follow the detailed instructions that we present below to delete SafeSearch Incognito completely. Make sure not to rush the process since missing a single step could result in an incomplete removal. If that happens and leftovers associated with SafeSearch Incognito are still active on your PC, you might have to face unwanted outcomes. There is a chance that the potentially unwanted program in question could be restored silently. Also, traces might prove to be just enough for the unwanted changes to remain in place. To be sure that the termination of SafeSearch Incognito has been successful, you need to recheck your entire operating system for anything linked to the suspicious program as soon as you are done with the instructions below.
How to remove SafeSearch Incognito from your PC
Google Chrome
Start your web browser.
Click the Chrome Menu button and select More tools.
Click Extensions.
Click the Recycle Bin icon next to the unwanted extension.
Select Remove to confirm your choice.
Mozilla Firefox
Open your web browser.
Click the Menu button.
Select Add-ons and click Extensions.
Click the Remove button.
In non-techie terms:
We also provide alternative removal instructions for users that find the manual removal too complicated to perform on their own. Follow removal guide below and you will be able to delete SafeSearch Incognito in an automated way.