Do you know what Sad Cloud is?
Sad Cloud is an adware application from the SuperWeb family of potential computer security threats. It is the newest addition to the group of programs that include such notorious apps as Wooden Seal, Simple for You, Dollar Dream, Triple Pose, and many others. Your task right now is to remove Sad Cloud from your computer as soon as possible because this adware application could easily lead you to websites that are part of malware distribution network. Keeping your computer safe should be your utmost priority, so you need to terminate all the potential threats at once.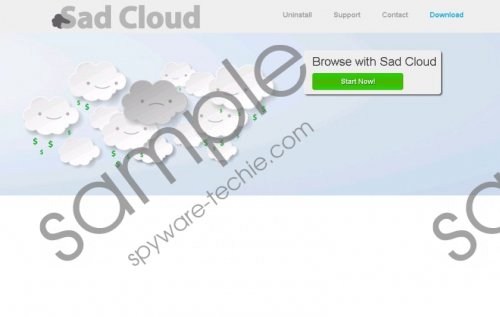 Sad Cloud screenshot
Scroll down for full removal instructions
Needless to say, it is not possible to download Sad Cloud from sadcloudplace.com. The official homepage is highly dysfunctional, and it does not offer any working download link. Since there is no way to download this application from the official website, users often think that Sad Cloud is a malicious computer virus that enter their systems behind their backs. However, adware programs are far from being genuine computer viruses. The only reason Sad Cloud manages to get installed on your computer is because you ALLOW it to happen.
Sad Cloud and other freeware applications that cannot be downloaded from their official websites are often distributed in software packages. It means that Sad Cloud often enters target systems with a number of other potentially unwanted applications. The installer file often hides in a third-party downloader that users utilize to download software from third-party file hosting websites. We would like to point out that staying away from third-party file sharing and torrent websites would save you the trouble of dealing with Sad Cloud and other unwanted applications that might eventually lead to serious computer security issues.
To tell you the truth, Sad Cloud is more annoying than dangerous because the application collects information on your web browsing habits and then displays an array of commercial advertisements. Most of the time, these ads appear in online stores, and you are offered to purchase various products at a lower price.
Do not be so hasty as to click Sad Cloud ads because you can never know whether they are safe or not. Do yourself a favor and remove Sad Cloud from your system along with other potentially unwanted applications. If you do not know which programs have to be deleted from the PC, scan your system with the SpyHunter free scanner. Do not hesitate to invest in a licensed antispyware tool if need be.
How to Delete Sad Cloud
Windows 8 & Windows 8.1
Slide the mouse cursor to the bottom right of your screen.
When the Charm bar appears click Settings and go to Control Panel.
Open Uninstall a program and remove Sad Cloud.
Windows Vista & Windows 7
Click the Start menu and open Control Panel.
Go to Uninstall a program and remove Sad Cloud.
Windows XP
Open the Start menu and click Control Panel.
Select Add or remove programs and uninstall Sad Cloud.
In non-techie terms:
Sad Cloud is an application that displays annoying commercial ads, and these ads may contain outgoing links to dangerous websites. To protect your computer from potential malware infection, remove Sad Cloud at once. You can also refer to the secondary set of removal instructions if you need an alternative software removal method. Don't forget to terminate all the unwanted applications!