Do you know what Rutube Extension is?
Rutube Extension is promoted as a useful tool. It should grant free access to a large collection of Russian TV shows, if we believe the information provided to users. Some users might find this extension quite useful, but we, unfortunately, cannot confirm that keeping it installed is what people should do. In the opinion of our security specialists, Rutube Extension should be removed as soon as possible because it might act undesirably. We would not be surprised at all if it turned out to be true because Rutube Extension is a potentially unwanted program (PUP), and these programs might perform undesirable activities on users' computers, specialists say. The next paragraph will tell you more about this Google Chrome extension, and we really hope that this information will help you to understand that it is a bad idea to keep such a suspicious extension active. In case you decide to delete it, you will find everything you need to know about its removal in the last paragraph of this article.
After installing Rutube Extension on your Google Chrome browser, you will find a new icon on the browser toolbar. If you click it, a small window with news from rutube.com will appear on your screen. Some users find this extension quite useful, and you might be one of them, but we still cannot allow you to keep it active on your web browser because it has some drawbacks even though it looks quite beneficial at first glance. First, specialists say that it might collect information about users. It should not be able to access any personally-identifiable details, but there is no doubt that it can automatically collect the so-called non-personally identifiable information. For example, ads and links users click, web pages they open, their IP addresses, and other technical details about their machines. The recorded information might be shared with third parties. Although these details cannot identify users personally, they might still provide some information about them, so you should not let Rutube Extension disclose the recorded data to third parties. You cannot change how it acts, but you can put an end to all activities it performs on users' computers by disabling it. You will remove its button opening a window with the content from rutube.ru only by erasing it from the affected browser as well, so go to take action today.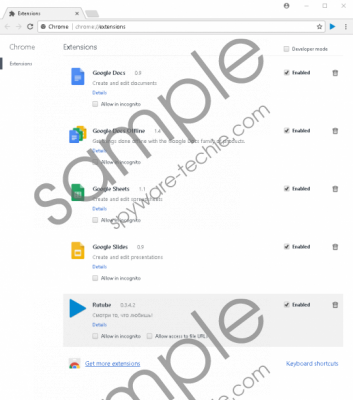 Rutube Extension screenshot
Scroll down for full removal instructions
You could have downloaded Rutube Extension from any of its official sources, e.g. Chrome Web store (https://chrome.google.com/webstore/detail/rutube/pfmlgdpgagephflfijfmhjckammbifgk); however, if you are sure you have nothing to do with that but you have still discovered this extension in the list of extensions on Google Chrome, it is very likely that this piece of software has been installed on your computer without your permission. Our experienced team of specialists says that such extensions as Rutube Extension known to be potentially unwanted software often arrive on users' computers bundled with third-party software, but, of course, we cannot say that you could not have downloaded it yourself from some kind of dubious third-party page. Be more careful in the future because Rutube Extension is definitely not the first nor the last suspicious extension ever developed.
You can eliminate Rutube Extension from your browsers by accessing the Google Chrome browser's add-ons manager and erasing it from there. If you need some help with that, feel free to use our manual removal instructions – you will find them listed below this article. Alternatively, delete the undesirable extension automatically with an automated malware remover – you can get one from the Internet.
Delete Rutube Extension
Google Chrome
Open Google Chrome.
Press Alt+F.
Click More tools and click Extensions.
Select Rutube Extension and click the recycle bin button.
To make it gone, click Remove in the confirmation box.
In non-techie terms:
Rutube Extension is not exactly a decent extension. If you install it, it will allow you to access rutube.ru straight from the browser's main window, which you might find quite useful, but, unfortunately, it does not mean that it does not have any drawbacks. Specialists say that this browser extension might collect information about users. What else makes it an untrustworthy application is the fact that it usually arrives on users' PCs without their knowledge. That is, they know nothing about its entrance because it is usually installed on their PCs next to third-party software, which is definitely not a feature of decent software.