Do you know what Rush Music Search is?
Rush Music Search is a potentially unwanted application that might change user's default search engine. The bad news is the new replacement might be not that reliable as it might appear to be. Our computer security specialists say extension's search engine could show various advertising content from unknown third parties. Consequently, we recommend removing the potentially unwanted program if you do not want to take any chances. Currently, it is compatible only with the Google Chrome browsers, so users of other browsing applications should not come across it. To get to know Rush Music Search better, we would advise reading the rest of this report. Also, should you decide to get rid of this suspicious extension keep in mind the removal guide provided below this article can help you erase it from your browser.
Rush Music Search can be downloaded from Chrome Web Store page, where it can be found with the following ID number: idankmdmpgehnmobhdopjpdphfpbcomk. Besides, the mentioned website we believe the extension could be spread with bundled software installers or untrustworthy advertising content like other potentially unwanted programs alike. Meaning, it could be encountered when downloading installers from various file-sharing web pages or after interaction with questionable pop-ups. Thus, to avoid such software next time we would recommend being more careful when picking new tools to install. It is essential not only to download installers from legitimate websites but also to review terms during the installation process. Choosing custom or advanced installation settings may reveal important details about the program as well as let you deselect unwanted bundled suggestions. Therefore, it might be worth paying more attention to the installation process.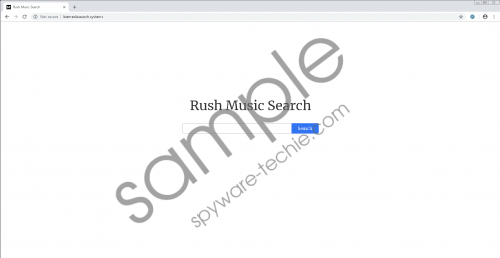 Rush Music Search screenshot
Scroll down for full removal instructions
The potentially unwanted program is not malicious or dangerous itself, but as we explained earlier, Rush Music Search provided search engine could display unreliable third-party advertising content coming from unknown locations. Clicking such content might be possibly risky as some of it could redirect to sites showing fake lottery winnings or asking to install other untrustworthy software, although we cannot be one hundred present sure. Nonetheless, to not to take any chances we would recommend not to waste any time with Rush Music Search provided search engine. No doubt, you can find all needed information related to music or musicians with any other search tool if you only pick right keywords. Consequently, if you do not think you can trust this extension, we recommend replacing the potentially unwanted program with a more trustworthy tool.
To delete Rush Music Search manually, you should follow the removal guide available at the end of this paragraph. The other way to eliminate this potentially unwanted program is to install a reputable antimalware tool, scan the system with it, and then press the given deletion button to erase all detected threats at once. Also, if you need more help, you can always leave us a comment at the end of this page.
Eliminate Rush Music Search
Open Google Chrome.
Paste this link: chrome://extensions into the browser's address bar.
Press Enter and search for the potentially unwanted program.
Tap Remove and exit Extensions menu.
Restart your browser.
In non-techie terms:
Rush Music Search might seem like a useful extension for users interested in music, but according to our computer security specialists, it would be best to be cautious with it. They say there is a possibility the potentially unwanted program's search engine might display advertising content coming from unknown sources, for example, some of it could promote other untrustworthy tools, scam web pages, and so on. Clearly, if you worry about your system's and privacy's safety and do not want to do anything that could put it at risk, we would advise deleting the extension before anything goes wrong, although we do not say anything bad will necessarily happen. Those who need any help should have a look at removal instructions available a bit above this text. If the instructions seem a bit too complicated, we would recommend using a reputable antimalware tool instead.