Do you know what RunSpeedCheck is?
RunSpeedCheck is supposed to show the user's Internet speed, but according to out computer security specialists who tested it, the feature that is supposed to do so does not work. Therefore, the only thing you may get from the extension is a new search engine. However, it looks like the provided search tool might show unreliable advertisements from the third party, which is why we would not recommend using it. What you should also know about RunSpeedCheck is it is considered to be a potentially unwanted program, which suggests it should not be trusted. Under such circumstances, we advise deleting the application if you do not want to take any chances. To show our readers how to erase the suspicious extension manually, we have prepared a removal guide available below the article.
The potentially unwanted program can be found on Chrome Web Store page where it can be located by the following ID number: npedfajfjdbafnipamnhoiepnonjbhih. Besides, our computer security specialists believe RunSpeedCheck might be distributed with suspicious pop-up advertisements, bundled setup files, and so on. Meaning users could encounter it while surfing untrustworthy file-sharing web pages or clicking questionable advertising content. Thus, users who want to keep their computers clean from threats should be more cautious while browsing. Every time you pick a new tool, you should research it first to make sure it is reliable before downloading or installing it. Also, it would be wise to acquire a reputable antimalware tool that could guard the system against potential threats.
After being installed, RunSpeedCheck should change the browser search engine. Given it is now working only on Google Chrome, we do not think it could affect other browsers. Like explained earlier, the problem with the new search engine is it could show unreliable advertising content that could lead you to potentially harmful web pages. We cannot know this for sure, but the smallest chance it could happen is enough for use to recommend removing it. Especially, when the extension does not work as promised. Our computer security specialists say the Internet speed feature did not work when testing the plugin. More than that, we discovered RunSpeedCheck tried to load questionable scripts and our used Google Chrome, on the test computer, blocked them as suspicious. Such working manner raises suspicion, and if you do not think the application is trustworthy either, we advise you to erase the potentially unwanted program at once.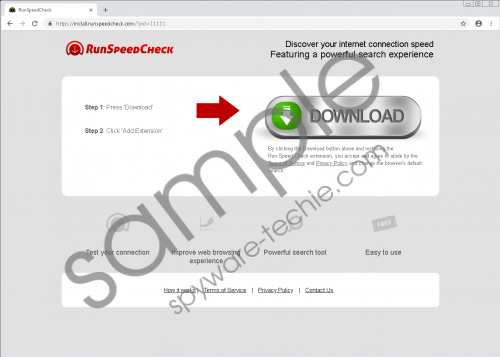 RunSpeedCheck screenshot
Scroll down for full removal instructions
One of the ways to eliminate it is to remove RunSpeedCheck from Google Chrome's extensions menu. The feature can be found on the browser's settings and if you take a look at the removal instructions available below you can learn how to locate it yourself. It is also possible to erase the potentially unwanted program with a reputable antimalware tool. Just pick a legitimate tool and perform a full system scan.
Eliminate RunSpeedCheck
Open Google Chrome.
Paste this link: chrome://extensions into the browser's address bar.
Press Enter and search for the potentially unwanted program.
Tap Remove and exit Extensions menu.
Restart your browser.
In non-techie terms:
RunSpeedCheck is a potentially unwanted program or a PUP in short. Such applications might not be considered to be malicious, but still, they cannot be trusted. As you see the extension encourages its users to search the Internet with a modified search engine that could display untrustworthy advertising content. Such material might not only annoy you but also get you into trouble if it leads you to harmful web pages. We do not say something like this would necessarily happen when using the plugin's search engine, but it is possible it could and given the software is not trustworthy, we do not think it is worth taking any risks for it. Consequently, we advise deleting the application before anything goes wrong. If you decide you want to get rid of it, you can use the removal guide available a bit above this paragraph. Also, users who have questions about the PUP can leave us comments at the end of this page.