Do you know what RSA2048Pro Ransomware is?
RSA2048Pro Ransomware is one more file-encrypting software that has been noticed roaming the web just this August. This is just one of the latest installments of the outbreak of programs categorized as ransomware. If you are not aware of their capabilities, you must know that they are extremely aggressive and malicious. This application is no different because upon intrusion it can encrypt a lot of files stored on your personal computer. If you happen to use your PC for work, it could have truly devastating outcomes. Thus, in this article, we provide not only information about the intricate inner workings of this ransomware program but also virtual security recommendations, which will allow you to maintain a fully secure operating system at all times. To help users that already have RSA2048Pro Ransomware on their operating system, we present its detailed removal guide that is easy to follow.
During the initial analysis of RSA2048Pro Ransomware, malware researchers working at our internal labs have noticed a similar pattern of functionality compared to other programs of this categorization. As soon as it is launched, you will see a Command Prompt window for a moment. A ransom note will also briefly appear. Right after that, the malware starts a full encryption procedure. Unfortunately, users without advanced computer knowledge are rarely able to detect the malicious application and stop it before the damage is done. The ransomware in question uses a robust cipher entitled RSA-2048, which is virtually unbreakable. Nowadays file-encrypting applications use such powerful ciphers all the time since they eliminate the possibility of manual decryption. Every single file affected by the malware in question receives a .aes extension. Once the encryption is over this malicious program will drop ransom notes in folders that contain the inaccessible data. The note itself provides basic information about all that has happened. To resolve the issue, cyber crooks urge you to contact them via email for further instructions on how you can pay a ransom which is 0.5 Bitcoin. Since developers of this malicious program are not obliged legally to present you with decryption services even if you pay up, we obviously advise you not to contact them as you could lose not only your data but a large sum of money as well. It should be quite clear that the removal of RSA2048Pro Ransomware is a must. Make sure to use the instructions below to delete it without encountering any major problems.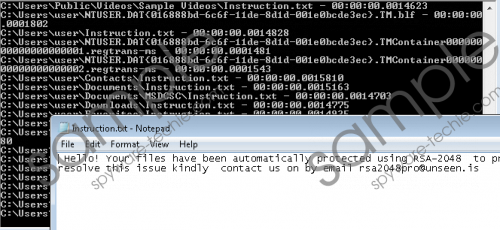 RSA2048Pro Ransomware screenshot
Scroll down for full removal instructions
If you consider yourself to be a security conscious user, you must take preventative action to keep your computer free of programs such as RSA2048Pro Ransomware. First and foremost we urge every user to install a professional antimalware tool. Such a tool is the most important part of your virtual security since it provides overall system security at all times. That means that it can warn you about any suspicious application as well as it can terminate in a fully automated manner. Besides such a tool, we highly advise you to refrain yourself from all suspicious download websites. It is important to do so since unauthorized distribution web pages tend to host bundled installers, which have an infamous reputation for being filled with suspicious and even malicious content. Furthermore, you should be careful about email attachments that come your way from unknown sources. Our researchers have discovered that in most cases RSA2048Pro Ransomware is spread via spam e-mail campaigns and that its executable file can be named enbild.exe. Thus, if you ever happen to download an executable file named like that, be sure not to launch it under any circumstances. Finally, you must be aware of misleading and otherwise hoax marketing tactics that malware developers use to trick people into downloading their intrusive programs. Thus, before obtaining any program, you should learn about it as much as possible. Even though these precautionary steps could seem simple, they are extremely effective.
Do not waste time and conduct a complete removal of RSA2048Pro Ransomware as soon as it is found up and running on your computer. Be sure to follow the instructions carefully because only a complete termination will stop the malicious functionality altogether. If any leftovers are still active on your PC after manual removal, you might have to face unwanted outcomes. For example traces of RSA2048Pro Ransomware could be used to restore it. To be sure that you have successfully removed this malware from your PC, make sure to double-check your entire operating system for anything associated with the malware in question once you are done with the instructions below.
How to remove RSA2048Pro Ransomware from your PC
Open your File Explorer.
Go to C:\Users\(your username)\Downloads.
Select a malicious .exe file and then tap Delete on your keyboard. Remember that the name of this file could be randomized.
Right-click your Recycle Bin and then select Empty Recycle Bin.
In non-techie terms:
If you happen to find manual removal a bit too complicated, do not worry. Malware experts working at our internal labs have crafted an alternative removal guide. Follow the instructions that we present below to delete RSA2048Pro Ransomware automatically.