Do you know what Rooster865qq Ransomware is?
Rooster865qq Ransomware is an extremely dangerous file-encryptor. That is because once it slithers into an operating system, it encrypts pretty much everything in its way. According to our research team, this malware does not encrypt files in the %WINDIR% directory to ensure that the system remains fully functional. However, it fully encrypts files in the remaining directories. Unfortunately, the result of that is that all personal files are encrypted. The ".Rooster865qq" extension should be added to the corrupted files, and even though you can delete it – there is no point in doing that. Unfortunately, it does not look like the corrupted files can be restored at all, and, most likely, the only thing you can do is delete Rooster865qq Ransomware. Even though the files will not be decrypted, you will be able to start fresh.
It was found that Rooster865qq Ransomware belongs to the Maoloa family. Not much is known about it yet, and it looks like it might be quite new. Another infection that is part of this family is Hades666 Ransomware. The distribution of this malware is pretty mysterious still, but if we had to guess, we would say that it probably exploits spam emails, bundled downloaders, and remote access systems to enter without permission and notice. Obviously, if the system was guarded, Rooster865qq Ransomware would be caught and deleted immediately, and that is something you need to think about also. After entrance and execution, files are encrypted immediately, and then the infection deletes itself. There is no point for the threat to remain active on your system because once files are encrypted – its job is done. Before that, two files are created. One of them is called "ids.txt," and it should be dropped where the threat runs from originally. The second file is called "HOW TO BACK YOUR FILES.exe," and you should find it next to the encrypted files.
The .exe file created by Rooster865qq Ransomware is supposed to open a window. It is launched on your screen right after encryption initially. The window includes a message, according to which, you need to obtain a decryption tool if you want to recover your files. To obtain it, you need to contact the attackers by sending them a message to China.Helper@aol.com. Do you know what would happen if you did that? They could start sending you misleading emails. Remember that ransomware can be spread using spam emails, and so you really do not want cybercriminals learning your email address. Of course, if you send the email, the first thing that the attackers will do is demand a ransom payment. What guarantees do you have that you will get a decryptor in return for the money? Such guarantees do not exist, and we believe that if you pay the ransom, you will get nothing for it. Unfortunately, a free decryptor is unlikely to be created due to the complexity of this dangerous infection.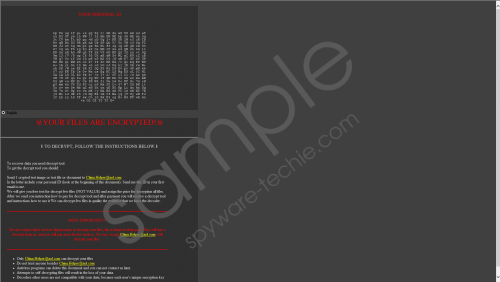 Rooster865qq Ransomware screenshot
Scroll down for full removal instructions
You are in a great position if you have backup files. Whether you store them online (e.g., Google Drive, OneDrive, or Dropbox) or employ external drives, if you have copies of your precious files, you do not need to mourn the corrupted ones. First, delete Rooster865qq Ransomware from your operating system, and then replace the encrypted files with backups. When it comes to the removal, as you already know, the threat removes itself, but there are leftover components that you need to deal with. If you cannot do that manually, why not install an automated anti-malware program? We suggest installing it anyway because we believe that it is the best tool for the protection of your operating system in the future.
Remove Rooster865qq Ransomware
Use the Alt+F4 key combination to close the ransom note window.
Delete every copy of the file named HOW TO BACK YOUR FILES.exe.
If you can find the file named ids.txt, you must Delete it too.
Empty Recycle Bin to eliminate these components completely.
Install and run a reliable malware scanner to check for leftovers.
In non-techie terms:
Do not let Rooster865qq Ransomware into your operating system or it will encrypt every single file that you care about. If that has happened already, you must have been informed that you can purchase a decryptor from the attackers themselves. Could this be a scam? Most likely, it is. Therefore, we do not recommend paying the ransom. Unfortunately, at the time of research, there was no effective solution to having files decrypted, and so they are likely to be lost. Of course, if you have backups, you can easily replace the corrupted files. We hope that that is an option for you. First, you want to delete Rooster865qq Ransomware, and even though the launcher deletes itself, some elements are left behind. Use the guide above if you are interested in manual removal or employ an anti-malware program to have your system cleaned and secured at the same time.