Do you know what Rightdeals is?
All you need to know about Rightdeals is that it should be removed as soon as possible if found running on your operating system. Frequent online shoppers often fall prey to such applications because they are marketed as useful browser add-ons that will reduce the amount of money you spend while shopping online. You might save a few dollars every other month, but that is not worth it especially as it is well-known that Rightdeals is related to some other questionable applications. If you are keen to keep your system clean and secure, you should avoid any adware application. If, by any chance, your system is already running Rightdeals, use the removal guide below to delete it from your system. Read the article for further information about Rightdeals.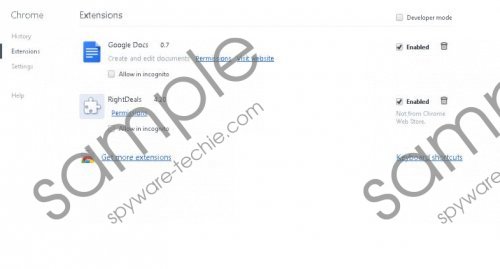 Rightdeals screenshot
Scroll down for full removal instructions
Just like most adware applications, Rightdeals is spread via bundled freeware. Installers such as InstallRex, Amonetize, and Vittalia are known to be the main distributors of Rightdeals. Mostly they are obtained from fake download websites or websites linked to online piracy. If you do not want to risk infecting your operating system with Rightdeals or any other adware application, you should stop downloading software from suspicious websites. Official websites are your best bet to maintain your system secure and clean. In addition, we recommend installing a professional antimalware tool for overall security of your PC.
Rightdeals is known to install browser extensions to Internet Explorer, Mozilla Firefox, and Google Chrome. Adware applications use browser extensions to display adverts while you surf the web. These extensions interact with numerous adware servers that are known for presenting you with dubious third-part adverts. These adverts will make web browsing a significantly less enjoyable experience.
In some cases, adverts could be fictitious, and you might be redirected to some suspicious websites. Reports show that adverts containing redirect links might divert you to websites implemented with an arbitrary code execution exploit. It means that just by landing on such a website, unknown malware will probably enter your PC without your knowledge. This potentially detrimental activity is very alarming as your PC could be infected with something as dangerous as a Trojan, rootkit, or ransomware. Remove Rightdeals in order to restore the regular functionality of your browser and to maintain your system secure against other internet-based infections.
Fortunately, the removal of Rightdeals is not that complicated and can be executed by users with no advanced computer knowledge. In some cases, it was observed that some traces of Rightdeals remained on the operating system. In order to remove Rightdeals or any other dubious program, we recommend analyzing your system for any potentially leftovers after uninstalling the application via Control Panel. Usually some traces of the infection can be found in folders %APP DATA% or %PROGRAM FILES% - we advice starting the analysis from here.
How to delete Rightdeals from your operating system
Remove Rightdeals from Windows 7 and Windows Vista
Click the Windows button and select Control Panel.
Now select Uninstall a program.
Select Rightdeals and click Uninstall.
Remove Rightdeals from Windows 8
Tap Windows key+Q on your keyboard.
Type Control Panel into the search box and tap Enter.
Select Uninstall a program.
Now double-click Rightdeals to remove it.
Remove from Windows XP
Click the Start button.
Click Control Panel.
Select Add or Remove Programs.
Select and remove Rightdeals from your system.
In non-techie terms:
Any dubious application and that includes Rightdeals must be removed from your system permanently. Otherwise your risk getting your PC infected with other potentially detrimental infections. If you want to remove Rightdeals automatically and be sure that every bit of it was terminated please follow the instructions below.