Do you know Rezm Ransomware is?
Recently we encountered another threat from the STOP Ransomware family that is called Rezm Ransomware. Just like most of such threats, the malicious application displays a note that urges users to contact the malware's developers within 72 hours to get a 50 percent discount on their decryption tools. The malware's creators offer purchasing such tools to users who want to restore files that the ransomware enciphers. As you see, encrypted data cannot be opened otherwise. If you want to learn more about what happens if this threat gets in and what we recommend doing, we encourage you to read our full report. Also, you might be interested in our removal guide available below the main text that shows how to erase Rezm Ransomware if you decide to delete it manually. However, we should stress that it would be safer and easier to use reputable antimalware software to get rid of this ransomware.
Users could come across Rezm Ransomware if they interact with suspicious email attachments, malicious installers, or have unsecured Remote Desktop Protocol (RDP) connections that might allow hackers drop this malware on their systems. Thus, to begin with, our researchers recommend being careful with files from the Internet if you want to avoid such malicious applications. Meaning, you should not open attachments from people you do not know or received with emails that raise suspicion. Also, we advise staying away from file-sharing sites as they can contain malicious software installers, fake updates, infected game cracks, and data alike. Besides staying away from files that come from doubtful sources, users should make sure that their systems have no vulnerabilities, such as unsecured RDP connections, weak passwords, and outdates software.
When Rezm Ransomware gets in, it should settle in by creating files that are mentioned in our removal guide that is available below this text. Next, the malicious application should begin encrypting photos, videos, archives, and personal files alike with a strong encryption algorithm. As a result, all encrypted files should become unreadable and it should be impossible to open them. Encrypted files ought to receive a second extension called .rezm (e.g., picture.jpg.rezm) too, so it should be easy to recognize them. After the encryption process, Rezm Ransomware should display a ransom note that ought to explain what happened to the malware's encrypted files and how to get them decrypted. To be more precise, the note ought to say that hackers have the needed decryption tools and can prove it by encrypting one chosen file free of charge. To receive the decryption tools, hackers should ask users to pay ransom. The note should say that the price is 980 US dollars, but users who get in touch within 72 hours can pay only half of it.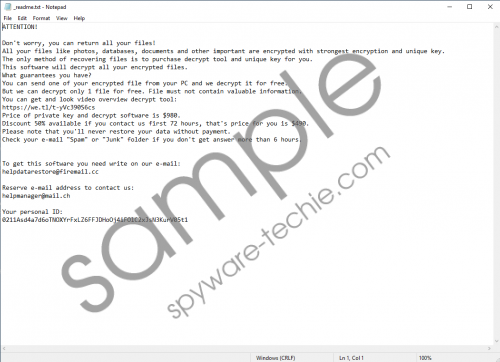 Rezm Ransomware screenshot
Scroll down for full removal instructions
Even if you can spare the asked sum, we urge you to think carefully before you decide what to do. There are no guarantees that hackers will not scam you, which means there is a chance that you may never get the needed decryption tools. If you do not want to risk losing your money in vain, we advise not deal with hackers. Also, we recommend deleting Rezm Ransomware because leaving it on your system could be dangerous and might put your future files at risk. You could try to erase Rezm Ransomware manually by following the removal instructions available below, but it would be safer to use a reputable antimalware tool.
Delete Rezm Ransomware
Press Ctrl+Alt+Delete.
Choose Task Manager and click the Processes tab.
Find a process belonging to the malware, select it and press End Task.
Close Task Manager.
Press Windows key+E.
Go to your Desktop, Temporary Files, and Downloads directories.
Find the file launched before the threat infected the computer, right-click this suspicious file, and click Delete.
Navigate to these locations:
%USERPROFILE%\Local Settings\Application Data
%LOCALAPPDATA%
Search for randomly named folders, for example, 2a9ea166-82c4-499d-9f16-9e28ac1b8ef4 that should contain malicious .exe files.
Right-click the randomly named malware's folders and select Delete.
Find this location: %WINDIR%\System32\Tasks
Locate a task called Time Trigger Task, right-click it, and select Delete.
Close File Explorer.
Click Windows key+R.
Type regedit and press Enter.
Find the following path: HKEY_CURRENT_USER\Software\Microsoft\Windows\CurrentVersion\Run
Search for a value name belonging to the malicious application, for example, SysHelper.
Right-click the malicious value name and press Delete.
Close Registry Editor.
Empty Recycle Bin.
Reboot the system.
In non-techie terms:
Rezm Ransomware is a file-encrypting threat. In other words, the malware locks targeted files with a secure cryptosystem to make them unreadable. The only way to get such data back is to use a special decryption tool and a unique decryption key. Sadly, such means are almost always available only to hackers who create ransomware. Usually, they ask to pay a ransom in exchange, which could be any sum in Bitcoins or other currencies. In this case, cybercriminals expect their victims to pay them 490 or 980 US dollars. We always recommend against paying ransom because no matter what hackers promise, they cannot give any real guarantees that victims will receive what they pay for. You would be at their mercy, so to speak, as they could either send or not send you the promised decryption means after you make a payment. What we advise for sure is to delete Rezm Ransomware because leaving it could be dangerous. You can erase it with the removal guide placed above or a reputable antimalware tool of your choice.