Do you know what ReWinUp Cinema is?
If you have come across a program known as ReWinUp Cinema, you must know that it should not be trusted under any circumstances since it is an adware program that serves no positive purpose whatsoever. Sadly, quite a few Internet users are tricked into obtaining this ad-supported program by the clever marketing techniques that the developers of it employ. On its official website, this adware program claims to be a tool that should help you find movies and series that you wish to watch online in a more efficient way than ever before while in reality this adware program will only ruin your online experience. If you already have this intrusive program operating on your computer, make sure to delete it as soon as it is found. Our malware analysts have crafted a thorough removal guide that should be used to remove ReWinUp Cinema in a quick and easy way.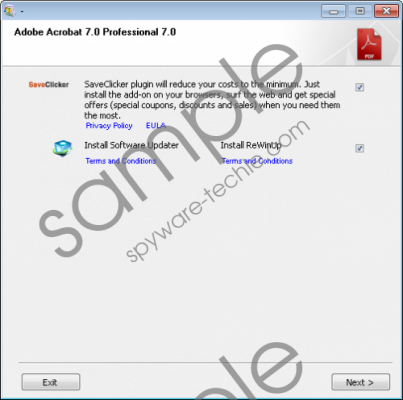 ReWinUp Cinema screenshot
Scroll down for full removal instructions
ReWinUp Cinema will start acting in a suspicious way as soon as it enters your PC. In their Privacy Policy the vendors' of this tool state that they will gather information about your online activity. The adware program will obtain data about your most visited websites, time spent on them, you geographical IP address, your ISP (Internet Service Provider), and other possibly relevant information. This is quite alarming because all the data about your browsing habits is shared or even sold to third-parties, which were not reviewed by the production team of this ad-supported program meaning that malware developers could get their hands on all that information. In addition to such invasive activity, the adware program will present you tons of third-party ads and annoying pop-ups. It will do so because it will start a background system service that will connect to adware servers which will provide you all the unwanted web content. Unfortunately, simply killing the invasive system service will not be enough to stop the intrusive activity promoted by this adware. To restore the default functionality of your web browser you need to delete ReWinUp Cinema as a whole.
It is quite natural that ReWinUp Cinema is mostly distributed like the majority of adware programs nowadays – via software bundles. In fact, bundled installers are known to carry all sorts of infectious programs not only ad-supported ones. You can avoid infecting your computer in such a way by staying away from third-party hosting site as they are notorious for being the primary source of installers filled with dubious software. Additionally we would like to advise you to never skip a setup step even if it seems irrelevant. This is so because you might miss out on a chance to call off the installation of some unwanted third-party program. Finally, makes sure to run a professional antimalware tool on your PC at all times because it is simply your best bet to keep your operating system safe and secure at all times.
Make sure to pay your utmost attention to every single removal step since a single mistake could mean that ReWinUp Cinema was not removed entirely. This is a rather dangerous instance that you can find yourself in because at times this intrusive adware application could restore itself without any notification by using just a few leftover files or registry entries. This is why you should run an in-depth analysis of your PC once you have executed the manual removal of ReWinUp Cinema.
How to remove ReWinUp Cinema from your PC
Windows 7
Click the Windows button.
Select Computer.
Click Organize and select Folder and search options.
Click the View tab.
Check Show hidden files, folder, and drives.
Click Apply and OK.
Go to C:\Users\[Your Username]\AppData.
Right-click the folder called ReWinUp.
Select Delete.
Windows 8
Tap the Windows key on your keyboard.
Type Computer into the search field and tap Enter.
Select View.
Click Options.
Select Change folder and search options.
Select the View tab.
Mark Show hidden files, folder, and drives.
Click Apply and OK.
Go to C:\Users\[Your Username]\AppData.
Remove the folder called ReWinUp.
Windows XP
Click Start and select My Computer.
Select Tools and click Folder Options.
Select View and check Show hidden files and folders.
Click OK.
Go to C:\Users\[Your Username]\AppData.
Select the folder named ReWinUp.
Tap the Delete key on your keyboard.
Confirm your choice.
In non-techie terms:
Since manual removal is quite complicated we decided to craft an alternative removal guide. If you are a user that does no feel comfortable performing manual removal yourself, do not hesitate and follow the instructions below. They will help you delete this adware in an automatic way.