Do you know what Rewin_Cinematic is?
Rewin_Cinematic is an advertising-supported browser plug-in that is compatible with Internet Explorer and Mozilla Firefox. It is highly advisable to remove Rewin_Cinematic from the browsers as soon as possible because this program displays many obtrusive pop-up windows, including full-screen advertisements, web banners, pop-ups, and other advertisements.
Rewin_Cinematic was published by VIT and is known to be based on the Crossrider platform, which is commonly used to created ad-supported browser add-ons.
We recommend that you ignore Rewin_Cinematic advertisements, which usually contain the label 'Ads byRewin_Cinematic'. Rewin_Cinematic is sponsored by multiple third-parties, including unreliable websites seeking to mislead you into installing unreliable programs.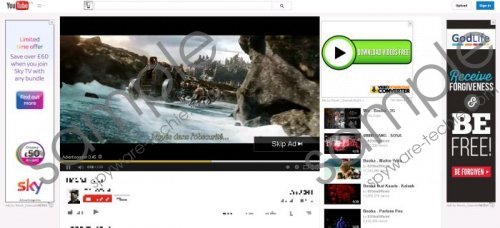 Rewin_Cinematic screenshot
Scroll down for full removal instructions
Our analysis of Rewin_Cinematic has revealed that Rewin_Cinematic displays advertisements that you may encounter after installing SuperWeb browser add-ons and JustPlug.it-based browser add-on. For example, you may find fill-screen advertisements inviting you to update some video player so that you can watch videos of different formats. Among those full-screen advertisements displayed by Rewin_Cinematic you may also find advertisements promoting online games and different questionable websites.
It is important to note that Rewin_Cinematic may display some reliable advertisements, too. For example, you may find ads encouraging you to donate money to the Red Cross or get involved in some other humanitarian activities. Even though some reliable advertisements are displayed, we recommend that you remove Rewin_Cinematic. By removing Rewin_Cinematic from the computer, you can minimize the risk of getting the computer infected on some phishing websites, and the sooner you remove Rewin_Cinematic, the better.
Do not hesitate to remove Rewin_Cinematic because this adware program may be monitoring you. Usually, adware programs are programmed to record browsing history, search terms, impressions, and other non-personally identifiable information. In order to stop Rewin_Cinematic from collecting information about you and sharing the data acquired with third-parties, you should remove Rewin_Cinematic from the computer as soon as you can.
Below you will find our instructions on how to uninstall the adware program or any other program that arrives at the computer with its uninstaller. However, we advise that you use SpyHunter because this real-time security program can easily eliminate Rewin_Cinematic from the computer and, most important, safeguard the system against various computer threats, such as Trojan horses, rogue anti-virus programs, browser hijackers, rootkits, and the like. Do not hesitate to install a reputable security tool if your computer is not protected against malware because very soon the computer may get affected by malicious programs.
How to remove Rewin_Cinematic
Windows Vista and Windows 7
Open the Start menu.
Click Control Panel.
Select the Uninstall a program option.
Remove Rewin_Cinematic.
Windows XP
Open the Start menu.
Click Control Panel.
Click the Add or Remove Programs option.
Uninstall Rewin_Cinematic.
Windows 8
Move the mouse pointer to the bottom-left corner of the screen.
Right-click.
Select Control Panel and click Uninstall a program.
Remove Rewin_Cinematic.
In non-techie terms:
If you want to have Rewin_Cinematic removed for you, you should implement our recommended program. You can do so using the following instructions.