Do you know what Results Hub is?
Results Hub is just another low-grade adware program that can cause you a lot of trouble if it is left unchecked. We will discuss this in greater detail throughout the article. However, from the very outset, we recommend that you remove it as soon as possible, because the content it promotes can compromise your computer's security. It is only compatible with Firefox and Internet Explorer, so Chrome users can breathe more easily for now. But, in any case, if you are interested in keeping your computer secure, we kindly suggest reading this article.
The adware is quite similar to those made by SuperWeb, but it uses a different platform. Results Hub is based on the Injekt engine. You can learn more about the developer of this engine at Injekt.com. There have been many Injekt based adware applications released in the past. Some of the more recently released similar and equally malicious applications are called Sale Charger, Zombie Invasion, Safe Web, Digital More, and many others. Results Hub is promoted on two websites, called Theresultshub.com and Results-hub.com, which look identical to one another, and they both double as a search engine that we do not recommend trusting and using. But the application cannot be downloaded from the website. There is no information regarding the distribution methods for this infection. But, since its websites do not contain a download link, it is likely that it is bundled with malicious software. It is possible, though less likely, that it is being bundled with legitimate applications and distributed via freeware sharing websites, such as Brothersoft.com or Softpedia.com.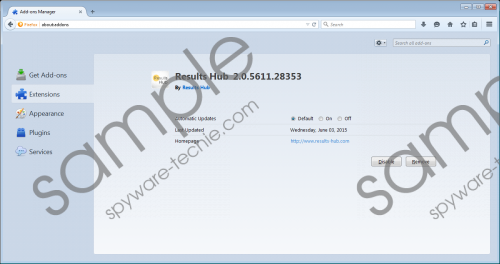 Results Hub screenshot
Scroll down for full removal instructions
We do not recommend using the search engines, since they can gather information about your browsing habits, such as search history, browsing history, IP address, browser settings, and so on. The application itself is set to gather the same information as well. This information is likely used for marketing purposes, to tailor advertisements to unique users based on their browsing preferences. Results Hub displays advertisements as pop-ups and shopping offers that have been submitted by various advertisers. We recommend removing the application because the third-party advertisements can function as a back door for more malicious applications to creep in. But that does not mean that the infections will come on their own, since you have to click an ad to get redirected to a malicious website that contains malware downloads.
We hope that this information was sufficient and that you now know that Results Hub is a malicious application that does not benefit you, but rather benefits only the developers and the advertisers. It will gather information about your browsing preferences to customize ads accordingly. Thus, increasing the possibility of a click might result in your computer being infected with far more malicious applications. So we suggest that you remove Results Hub as quickly as possible. You can get rid of the application using the instructions provided below or by using a anti-malware scanner.
Remove Results Hub from your operating system
Windows 8/8.1
Open the Charm bar by moving the mouse cursor to the bottom right corner of the screen.
Click Settings and select Control Panel.
Open Programs and Features.
Find Results Hub, right-click on it, and click Uninstall.
Windows 7/Vista
Open the Start menu and click Control Panel.
Select Uninstall a program.
Find Results Hub, right-click on it, and click Uninstall.
Windows XP
Open the Start menu and click Control Panel.
Open Add or remove programs.
Find Results Hub.
Click Remove.
In non-techie terms:
Results Hub is an adware application that displays intrusive pop-ups and various shopping offers. However, the application is known to gather information about the user, which is then used to make custom advertisements. The advertisements pose a potential security risk, because the advertisers cannot be identified. This leads to the conclusion that the ads are unreliable, and might promote malicious downloads, so we advise you to remove Results Hub.