Do you know what SecurityAndShoppingAdvisor is?
SecurityAndShoppingAdvisor is a computer application which is often recognized as adware (advert-supported software) or PUP (potentially undesirable program). Our malware researchers have analyzed the program in an internal lab and have discovered that the application shares the features of both. It has been revealed that this suspicious program can be installed bundled with third-party applications, such as OBRONA BlockAds. Once installed, the program runs SASAService.exe and SASAServiceHelper.exe in the background to learn more about you. These are few of the many reasons you should delete SecurityAndShoppingAdvisor from the operating system. Continue reading to learn more about this suspicious application and the different removal obstacles you may come across.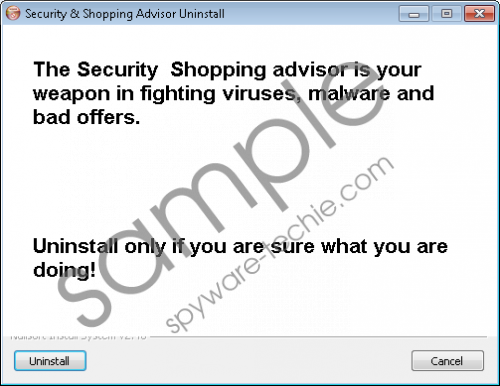 SecurityAndShoppingAdvisor screenshot
Scroll down for full removal instructions
It may be difficult to remove SecurityAndShoppingAdvisor from the operating system if more disturbing and unreliable programs are running alongside. For example, if third-party advertisement-supported software is active as well, it is most likely that instead of focusing on the removal of the PUP you will pay all of your attention to the different pop-ups and banner suggestions. Needless to say, much more disturbing and unreliable programs may be active as well. Not many computer users are experienced enough to locate and delete malware themselves. This is why virtual security experts have designed powerful malware scanners and automatic malware removers. We recommend using this software for SecurityAndShoppingAdvisor removal as well. In some cases you may also be able to delete this application manually.
When you uninstall SecurityAndShoppingAdvisor, you will be introduced to a suspicious pop-up stating that 'The Security Shopping advisor is your weapon in fighting viruses, malware and bad offers.' This is the last chance for the developers of the program to convince you that the application is beneficial. Needless to say, it is not, and so you should remove SecurityAndShoppingAdvisor as soon as possible. Use manual removal guides if you are sure you will be able to get rid of the program yourself. If you are intimidated by the suspicious third-party software, and you should be, you should have no more hesitations about the installation of automatic malware removal software.
Delete SecurityAndShoppingAdvisor from the PC
Delete from Windows 8:
Access the Metro UI menu, right-click to open a pane below and select All apps.
In the Apps menu select Control Panel and then move to Uninstall a program.
Right-click the program you wish to remove from the PC and select Uninstall.
Delete from Windows Vista/Windows 7:
Navigate to the Task Bar at the bottom of the screen and click Windows.
Open the Control Panel and click Uninstall a program (under Programs).
Right-click the program you want removed and then select Uninstall.
Delete from Windows XP:
Click the Start button on the left of the Task Bar to access the user menu.
Select Control Panel and then double-click Add or Remove Programs.
Move to Change or Remove Programs and Remove the undesirable app.
In non-techie terms:
You should remove SecurityAndShoppingAdvisor from the Windows operating system. This program is not valuable, and does not fulfill its promises to fight viruses or remove the so-called 'bad offers'. The manual removal instructions will help you delete SecurityAndShoppingAdvisor from the computer; however, only authentic security software will remove the remaining threats and will ensure further protection.