Do you know what Related Program is?
Everyone agrees that the name of the program called Related Program is quite strange. What is it related to, and how is it useful? These are the questions that users might expect to find answers to via the official website, relatedprogram.com. The information on this website informs that the app is meant to help you find "related products" as well as "broaden your shopping options." Other than that, this website does not represent the features of the app and does not explain how it works. To understand this app better, you need to go to the Privacy Policy, and, of course, most users do not bother with that. Have you analyzed this document? If you have, you probably know why you should remove Related Program from your operating system. If you are not sure, please continue reading, and you will learn the main reasons why the elimination of this program is important.
Related Program does not have an official installer, but it can be spread by third-party software distributors. Unfortunately, if malicious distributors get involved, they could bundle it along with malware, and this could be very dangerous for your virtual security. This advertising-supported program was created using the Injekt engine, and it is identical to other ad-supported programs that were created using this engine. Bronze Aid, Strong Signal, Roaming Rate, and On Stage are few programs from this family, and they are considered to be just as unreliable as Related Program itself. This adware might be introduced to you using attractive offers and services, but it is unreliable. As soon as you let it into your computer, it will start tracking information about you and injecting ads. According to our research team, this adware can display all kinds of advertisements (including pop-ups) and shopping offers, and they might be selected personally for you.
The Privacy Policy of the suspicious Related Program reveals that various data-tracking technologies are used for the collection of information. Cookies, pixels, beacons, and similar tools might be employed to track your browsing history and collect data about your hardware, software, applications, and, of course, interaction with advertisements. This adware can even record your shopping cart contents. The information that is collected could be used to expose you to more attractive ads. Third-party advertisers could even create ads and offers based on this information. For example, your browsing history could be employed to see what products or services you have recently researched, and attractive offers could follow right after. Unfortunately, these ads could be used to carry scams and even malware installers, which is why you have to be cautious. The parties responsible for all ads shown to you are unknown, and the risk of encountering ads created by cyber crooks is real.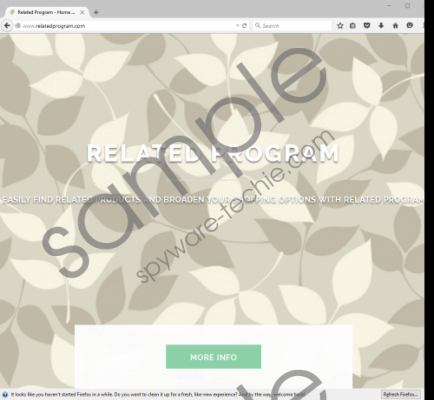 Related Program screenshot
Scroll down for full removal instructions
If you do not want untrusted software spying on you, sharing information with unfamiliar parties, and injecting potentially misleading or unreliable offers, you need to delete Related Program from your computer. We have designed a removal guide that will help you eliminate this suspicious adware from your Windows operating system manually, but you can also use automated removal software. You should use this software without further hesitation if other threats have invaded your operating system along with this adware or via the advertisements injected by it. Start a discussion below if you are confused about any part of the elimination process.
Remove Related Program from Windows
Launch RUN (tap Win+R keys) and enter regedit.exe.
In Registry Editor move to these paths and Delete the Related Program key:

HKEY_LOCAL_MACHINE\SOFTWARE\
HKEY_LOCAL_MACHINE\SOFTWARE\Wow6432Node\
HKEY_LOCAL_MACHINE\SOFTWARE\Wow6432Node\Microsoft\Windows\CurrentVersion\Uninstall\

Launch Explorer (tap Win+E keys).
Enter these directories (one by one) into the Explorer address bar and Delete the Related Program folder:

%Temp%
%ProgramFiles%
%ProgramFiles(x86)%
In non-techie terms:
Although Related Program promises to provide you with "related" offers, you need to be extra cautious with it. This program analyzes your virtual activity to introduce you to attractive ads/offers, and the problem is that they could be misleading. Needless to say, you are better off without this suspicious program running on your PC, which is why we advise deleting it right away. Most users will attempt to delete this adware manually (see the guide above), but you should also at least consider using automated removal software. If other threats are active, you will need to get rid of them manually as well, and this could be much more complicated. On top of that, you need the protection that anti-malware software can provide you with. Overall, your goal is to make sure that you clean your PC and keep it malware-free in the future.