Do you know what Rektware Ransomware is?
Unlike many other ransomware applications, Rektware Ransomware can be recognized from a specific email address mentioned in the malicious applications ransom note and not the extension it adds to its encrypted files. According to our computer security specialists, the extension should be unique for every victim as the malware marks its damaged data by randomly generated extensions. If you would like to get to know this infection better, we encourage you to keep reading our article. Later in it, we will talk about the malicious application's working manner, the methods that could be used to distribute it, and so on. Also, at the end of the text, we will add manual deletion instructions showing how to erase Rektware Ransomware step by step. Naturally, the process may not appear to be easy for inexperienced users, but in such case, a reputable antimalware tool could be used instead.
Rektware Ransomware might be spread via unsecured RDP (Remote Desktop Protocol) connections or Spam emails. One way of the other, receiving such a threat could signal you are too careless when it comes to data downloaded from the Internet. To avoid such mistakes in the future, we would advise being extra cautious with email attachments that come from unknown senders and messages urging or trying to scare you into opening them. Besides, to make sure such malicious applications could not find a way into your system you should try to get rid of the weaknesses it may have, for example, outdated programs, weak passwords, etc. No doubt, having a reputable antimalware tool would not harm either, on the contrary, it could guard the computer against various threats you might launch accidentally.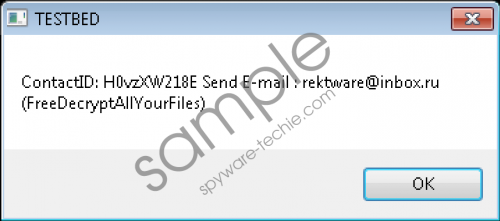 Rektware Ransomware screenshot
Scroll down for full removal instructions
It looks the malware does not need to create any copies or other data on the infected computer. Thus, it should start encrypting user's files right away. Our computer security specialists tell the malicious application can encipher various private files, such as photo, videos, text documents, and so on. As mentioned earlier, Rektware Ransomware marks its affected data with a random extension generated during the encryption process, which is why each victim should see a unique extension added to their files' titles. Lastly, the infection should display a window with a short message written in English. It is supposed to say the user can get decryption tools for unlocking his files if he sends an email to the malware's developers (rektware@inbox.ru). Needless to say, putting up with their demands could be hazardous, as hackers behind Rektware Ransomware may not send promised tools and the transferred money might be lost in vain.
To those of you who do not want to risk losing their savings or have no intentions on funding cybercriminals, we would recommend eliminating Rektware Ransomware. One of the ways to make sure it leaves the system is to delete its data manually from it. The removal guide available below is placed there to help you with this task. However, if the process is still too complicated, you could use a reputable antimalware tool instead.
Erase Rektware Ransomware
Click Ctrl+Alt+Delete simultaneously.
Pick Task Manager.
Take a look at the Processes tab.
Locate a process associated with this malicious program.
Select it and tap the End Task button.
Click Windows Key+E.
Navigate to the suggested paths:
%TEMP%
%USERPROFILE%Desktop
%USERPROFILE%Downloads
Find a file opened when the system got infected, right-click the malicious file and select Delete.
Leave File Explorer.
Empty Recycle bin.
Restart the computer.
In non-techie terms:
Rektware Ransomware is a threat that asks victims to contact its creators by emailing them to rektware@inbox.ru. It is most likely they would reply with instructions on how to pay a ransom to receive decryption tools. Even if the price is not significant, we advise you to consider the option carefully. The hackers behind the malware might scam you by taking your money, but not delivering the promised tools. Not to mention complying with their demands fund the cybercriminals and allows them to keep developing such threats. If you do not want to do this, we would advise deleting the infection. Soon after it is erased, you could replace encrypted files with copies you might have on removable media devices, social media profiles, cloud storage, and so on. To eliminate the malicious application manually, you should follow the removal instructions available a bit above this text. The other way to deal with it is to employ a reputable antimalware tool and perform a system scan.