Do you know what Registry Dr. is?
Registry Dr. is basically a tool that claims to be able to repair registry errors, boost the speed of your computer, prevent crashing and freezing as well as clean temporary files. Even though these features seem really useful, you should be very careful with this program because many users report that they have noticed several unwelcome features of Registry Dr. Of course, this program is not a harmful infection and there is no need to remove it from your system if you are satisfied with it. However, we advise to get rid of it immediately if it starts acting somehow unacceptably. We will help you to do that by guiding you throughout the removal process.
After Registry Dr. is installed onto the computer, it performs a scan and then provides the results. These results should not be trusted entirely because it has been observed that this program might be mistaken. If you still try to fix all those errors, the program will offer to fix only 10 of them. Do you still want to fix all the threats? You will have to buy a full version of the program which costs $39.95. It is not so cheap and you will definitely find another, more reliable, program for the same or even lower price. Besides, you will have to enter all of your details including your credit card information. Of course, this is a legitimate program and it is not likely that it would do any criminal activities; however, you should still be very cautious.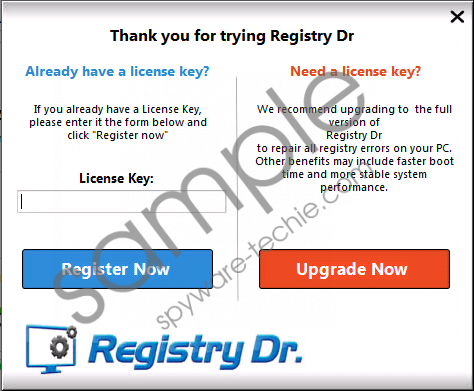 Registry Dr. screenshot
Scroll down for full removal instructions
If you cannot understand how Registry Dr. could get onto your computer, you should know that it might have come bundled with third party installers. It is especially true if you download freeware and shareware very frequently. There is one tip that might help you to avoid unnecessary programs in the future, which is to select advanced installation every time you install a new program. If you do so, you will definitely avoid different kinds of additional software that might seem useless as well as cause some security-related problems.
Even though Registry Dr. persistently tries to convince you not to remove it by offering you to fix 100 errors, we believe that you should not keep this program running on your PC because there are more reliable ones out there. Of course, it is up to you. However, if you decide to remove this potentially unwanted application, you can use the manual removal instructions that you will find below. Do not forget to scan your system with a reliable antimalware scanner like SpyHunter. It will detect all the existing threats, if there are any. It will also keep your PC protected.
How to remove Registry Dr.
Windows XP
Open the Start menu.
Click Settings and then move to Control Panel.
Select Add or Remove Programs.
Remove the program by clicking the Remove button.
Windows 7 and Vista
Click the Start button.
Select Control Panel from the Start menu.
Select Uninstall a program.
Right-click on the useless application.
Click the Uninstall button.
Windows 8
Access the Metro UI menu (tap Windows key).
Start typing "Control Panel".
When the icon appears, select it.
Select Uninstall a program.
Locate the unwanted software and right-click on it.
Select Uninstall.
In non-techie terms:
Registry Dr. is not a threat and it is not obligatory to remove it from your system if you like how it works. However, you should still be very careful with it because it is classified as a potentially unwanted program and thus might cause you some inconvenience. You should also know that there is no point in keeping this program on your PC, if you are not going to buy its license because the free version of this application is rather useless. If it happens that you remove Registry Dr., but want to get it again after some time, you can always download it from the official website registrydr.com again.
Aliases: RegistryDr.