Do you know what Reg TuneUp is?
Reg TuneUp is a useless system optimizer that, according to our research team, is a clone of the infamous Advanced PC Tuneup. Both of these programs are identified as PUPs (potentially unwanted programs), and there is absolutely no doubt that they were created by the same developer. The interfaces of these PUPs are identical, and they both share the same helpline number that, allegedly, can connect you with helpful technicians. Well, should you call this helpline if you have questions regarding the information provided by the suspicious optimizers? Our analysts warn that this is a bad idea. First of all, you have to beware of hidden charges. Second, these "technicians" care only about selling you their product, and so regardless of what kinds of problems you face, their main goal will be to push you into paying for a completely useless piece of software. Whether or not you have paid for the PUP's services already, we advise deleting it from your operating system. Keep reading to learn about the removal of Reg TuneUp, as well as the potential of this potentially unwanted program.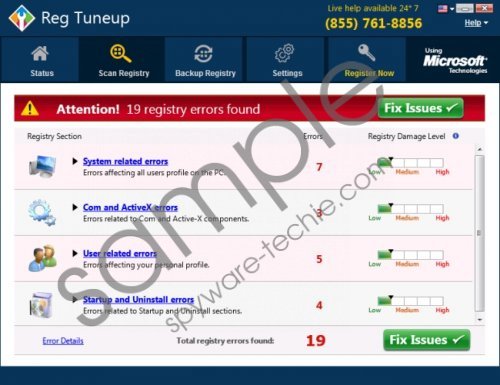 Reg TuneUp screenshot
Scroll down for full removal instructions
The official download page for Reg TuneUp is regtuneup.com, but you can expect to find this PUP attached to other programs spread in the same software bundle. Although we do not know if all programs packaged with the suspicious optimizer will be malicious, you have to be cautious about that. In general, if this app has been installed on your computer, it is a good idea to install a malware scanner to swiftly inspect your operating system. In the worst case scenario, more dangerous infections will be found, and you will have to postpone the elimination of Reg TuneUp until you remove these infections. Needless to say, you should not ignore malicious threats if they are discovered because your virtual security could be jeopardized by them. Hopefully, the scanner finds no other threats, and you can focus on the PUP. Although it promises a "complete backup and restore support," our researchers warn that this program is useless. Sure, it might fix a few registries linked to files that were previously removed, but that does not make the app beneficial. Obviously, we recommend deleting this PUP instead of paying $39.95 for its allegedly useful services.
When Reg TuneUp scans your operating system, it might find all kinds of errors, but you should not panic about them because that is exactly what the creator of the PUP wants. If you panic, they have a better chance at convincing you to invest in a useless tool that you certainly do not need. As mentioned already, this tool is not completely incapable of doing anything, but its services are definitely not worth the money that is asked for them. Our recommendation for you is to delete Reg TuneUp from your operating system, and you can use the guide below to eliminate it manually. If you have paid for the useless services already, you might want to try to get your money back first. In case other threats are detected by a malware scanner, you might have to tackle them first, or you can install an automated anti-malware tool to have all infections erased simultaneously. All in all, it is most important that you get your system clean, and it does not matter how you do it, as long as you are successful.
Remove Reg TuneUp
Launch Windows Explorer by simultaneously tapping Win+E keys.
Enter %PROGRAMFILES(x86)% (or %PROGRAMFILES% depending on the version) into the bar at the top.
Delete the folder with the CLSID format name (e.g., 18d3a410-f2c0-4c67-85b2-67491421d6ee).
Enter %WINDIR%\System32\Tasks (or %WINDIR%\Tasks\ depending on the version) into the bar at the top.
Delete these files:

Reg Tuneup_DEFAULT
Reg Tuneup_UPDATES
Reg Tuneup

Delete the shortcut named Reg Tuneup.lnk from the Desktop and/or the Taskbar.
In non-techie terms:
You should delete Reg TuneUp from your operating system immediately because this application is just a PUP that cannot ensure beneficial services. According to our analysts, this program might be good at fixing irrelevant registry errors, and that, of course, is a service that is not worth your money. What you should invest in instead is a reliable anti-malware tool, which will simultaneously erase all existing threats and keep your operating system protected against all other unreliable programs and malware hereafter. While we are sure that you will be able to erase the PUP yourself using the guide above, we strongly advise looking into anti-malware software because of the irreplaceable services it can provide you with. If you have any questions, use the comments box to start a conversation.