Do you know what Redshitline Ransomware is?
You may lose all your precious files, including your photos, videos, documents, and databases if your computer gets hit by Redshitline Ransomware. According to our researchers, who inspected this program in our internal lab, this infection poses a severe threat to your computer and your files and classified it as a Trojan ransomware. There is no way for you to stop this vicious program in the act since it may only take a few seconds for it to finish the encryption of your files. You are supposed to contact these criminals by e-mail to receive further instructions with regard to the payment method. Please consider the fact that you may not get your files back even if you pay the ransom fee. It is up to you, though, how you decide. But even if it is impossible to decrypt your files, it is essential that you remove Redshitline Ransomware immediately because it will encrypt all your new files as well unless you eliminate it. Fortunately, we can provide you with a relatively easy method to end this threat. But first, let us tell you in more detail what our researchers have found out about this dangerous Trojan.
Although this infection can cause a lot of destruction on your machine and you should take it very seriously, you should know that there are ways to prevent it from landing on your computer. First, the easiest solution is obviously to have a decent up-to-date anti-malware application that can detect such an attack right away and nip it in the bud. This way this ransomware could not even infiltrate your system. Second, since this Trojan has been found mainly spreading via spam e-mails, you simply need to be more attentive about opening mails and clicking on attachments. This malware seems to disguise itself as .doc, .xml, and .js files. One single click on these attachments, and this Trojan can encrypt all your files before long. That is why we say that you should always make sure that you know the sender of the e-mail you are about to open and you also know that a certain attachment was sent specifically for you.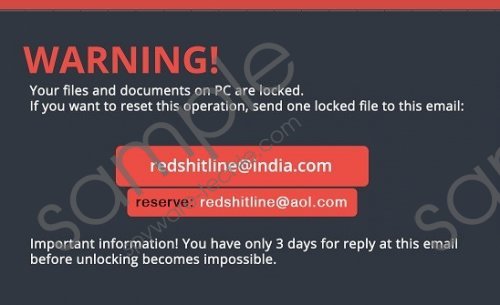 Redshitline Ransomware screenshot
Scroll down for full removal instructions
Other than spam e-mails, you should also be very careful with visiting suspicious file-sharing websites since these host lots of unsafe third-party advertisements. Clicking on those can also drop a whole bunch of malware infections onto your computer. Trojans are also commonly spread through social networking websites. Therefore, you should be careful with clicking on video and image links that show up on your Facebook wall or in a chat window because these may also hide malicious code and drop an infection onto your computer. These are simple steps towards a more protected virtual world.
This ransomware uses the RSA-2048 encryption method, which can finish its task in a matter of a few seconds up to one minute depending on how many files it needs to process and how fast your computer is, of course. All the encrypted files get the ".IDB4500913.redshitline@india.com.xtbl" extension. This infection does not lock your screen and does not block any system executables either; fortunately, we might add. Instead, it simply creates a .txt file ("How to decrypt your files.txt") on your desktop and changes your background to its own ransom note. This note is rather short and dense, i.e., quite straight to the point. It merely claims that your files have been encrypted and you are to send an infected file to the given e-mail address (redshitline@india.com) within three days or else you can forget about your files. You are supposed to get a reply with instructions regarding the payment. This usually takes place through a Bitcoin account and the amount varies between 100 to 500 US dollars. Of course, when companies are targeted with ransomware, this amount can reach thousands of dollars. We do not want to tell you not to pay, we simply ask you to make a reasonable decision. There is one thing you should not have any doubts about, though, and it is that you must delete Redshitline Ransomware ASAP.
We cannot give your files back, but we can definitely assist you with the necessary steps to eliminate Redshitline Ransomware, this vicious infection. As a matter of fact, it is quite easy to completely get rid of this malware. All you have to do is delete all the files this malware created on your system. Please use our guide below to make sure that no leftovers remain on your computer. Also, remember that if you have copies of your files on an external hard drive, you should only transfer them back onto your system if it is totally clean of any infections. That is why we suggest that you download and install a trustworthy malware removal tool that will also safeguard your computer from future malware invasions. Should you need assistance with the removal of Redshitline Ransomware, please leave us a comment below.
Redshitline Ransomware Removal from Windows
Tap Win+E to open the File Explorer.
Find the %Appdata%\Microsoft\Windows\Start Menu\Programs\Startup folder.
Delete the following files:
5aba34027d2db0e1cffda281021c61903cac21f3759fc045278480204138b647.exe
How to decrypt your files.jpg
How to decrypt your files.txt
Empty your Recycle Bin.
Tap Win+Q and enter regedit. Press the Enter key.
Find and delete the random registry value name, such as rvpjmcnd, with the value data of "C:\Windows\System32\5aba34027d2db0e1cffda281021c61903cac21f3759fc045278480204138b647.exe" in the following registry key: HKEY_LOCAL_MACHINE\SOFTWARE\Microsoft\Windows\CurrentVersion\Run
Exit the registry editor.
Reboot your operating system.
In non-techie terms:
Redshitline Ransomware is a serious Trojan ransomware infection. If this vicious threat hits your computer, it is quite possible that you will have to say goodbye to all your files unless, of course, you have saved them on an external drive. This infection can enter your operating system without your noticing it and cause irreparable damage to your precious files. Although the crooks who created this Trojan offer you a way out if you transfer them the ransom fee, we do not believe that they actually deliver. Do not forget that you are dealing with criminals. It is best to regularly save your files on an external drive so that in such cases you can simply copy them back. But even that you should not do before you remove Redshitline Ransomware. Unfortunately, there is no way and no tool to help you decipher your files since it is practically impossible without the private key that is hidden by these criminals.