Do you know what Record Page is?
Record Page is an adware application that enters your computer with other annoying applications. It is impossible to download this program from its homepage because getrecordpage.com does not have any download link or download button. Luckily, you can remove Record Page via Control Panel, so it should not be too complicated to get rid of this application on your own. However, after manual removal you should scan your PC with the SpyHunter free scanner, just to make sure that you have deleted all the potential threats and other unnecessary applications.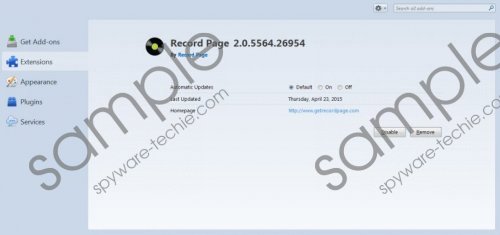 Record Page screenshot
Scroll down for full removal instructions
We are sure that Record Page is not the only adware program currently running on your system because adware apps seldom travel alone. As it has been established in the first paragraph, Record Page does not have a direct distribution source. Therefore, it is very likely that you installed this application accidentally with some other adware programs when you were browsing third-party file hosting websites. You need to be extremely careful when you download software from third-party sources because there is no guarantee that you will be given the product you have been looking for. Or, you might download the program you want, but it is highly possible that it will come bundled with the likes of Record Page.
The program we are dealing with here is a direct clone of Assist Point, Positive Finds, Strong Signal, Dragon Branch, Roaming Rate, and so on. Record Page was designed to make you believe that this application can provide you with some useful function. One would think that this application has something to do with online audio files and various types of streaming, but the main webpage is very ambiguous when it comes to the actual information on this application. Consequently, you are left to deal with Record Page on your own, but do not panic. It is not hard to remove this application.
If you allow Record Page to remain on your computer, you will be spammed with commercial ads, pop-ups, and other shopping offers. In short, this application functions very much like any program from the SuperWeb family, but Record Page is based on the Injekt engine. Technically, the application cannot cause any harm by displaying commercial offers, but if Record Page's advertising network and all of its functions get exploited by cyber criminals then you could be in a deep trouble.
Avoid that by deleting Record Page today. As mentioned above, once you get rid of this application, you should search for more unwanted programs that might be present in your system. Do all you can to protect your computer from malicious exploitation.
How to Remove Record Page
Windows 8 & Windows 8.1
Drag the mouse cursor to the lower right corner of your screen.
Click Settings on the Charm bar and go to Control Panel.
Open Uninstall a program and remove Record Page.
Windows Vista & Windows 7
Click the Start menu button and open Control Panel.
Go to Uninstall a program and remove Record Page.
Windows XP
Press the Windows key and select Control Panel.
Double-click Add or remove programs and uninstall Record Page.
In non-techie terms:
Record Page is a potentially dangerous adware application that could be easily misused by cyber criminals for their own malicious purposes. Do not tolerate these annoying pop-ups on your screen any longer. Remove Record Page right now and invest in a legitimate antispyware tool in order to safeguard your system from similar threats.