Do you know what Recipes By inMind is?
Recipes By inMind is an extension for Google Chrome that changes the homepage and new tab page to a customized version of Ask.com. All seems to be well and good, but we recommend that you remove this extension, because its search engine is unreliable. Therefore, this program falls into the category of potentially unwanted programs. The extension itself is harmless, but its promoted search engine is set to promote third-party content as well as collect certain information about you. If you do not agree with such actions, then you should take action and get rid of this extension.
As this program's name implies, Recipes By inMind has been created by a software developer called InMind. This developer has previously released numerous other programs that are still promoted on its main website at Inmind.com. This developer specializes in creating programs that according to its website "bring exceptional content directly to engaged users." However, what exactly this content is remains to be seen. InMind Inc has an unknown number of affiliates that help distribute its products. Therefore, it is hardly surprising that Recipes By inMind can be found bundled with other programs as its developers give its distributors a piece of its revenue. Furthermore, this program's standalone installer can be found on its download website at Lp.inmind-recipes.com. On top of that, it can also be downloaded from Google's Chrome Web Store. So, clearly, this program has no shortage of distribution methods.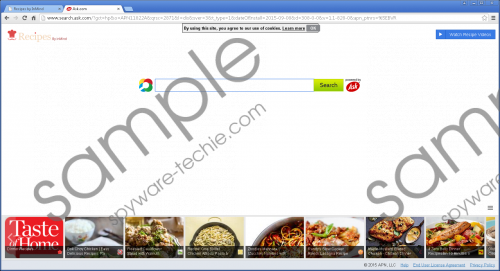 Recipes By inMind screenshot
Scroll down for full removal instructions
Once installed, Recipes By inMind will change Google Chrome's homepage and the new tab page to a modified Ask.com search engine which is owned by APN LLC. This search engine's main webpage features various food recipes at the bottom of the page. So the developers actually deliver what they promise and we have no problem with it. However, this program's search engine can be used to promote certain websites in order to generate revenue. Some of these websites may contain unreliable software such as adware and other potentially unwanted programs. Furthermore, the modified search engine uses browser cookies to collect certain information about you. According to its Privacy Policy, the search engine can obtain information, such as "country, language, internet connectivity, file types (and relative quantities), installed software and drivers." This information is used to "enhance" the software but we think that providing information for this cause is futile as it will never get better. It will only be used to tailor advertisements. But to be fair, it might also be used to present better food recipes.
If you got this program by accident when installing a software bundle and you want to remove it, then you have come to the right website. We have prepared removal instructions that will hopefully be of use to you. In conclusion, Recipes By inMind is not a malicious program, but it offers shabby features. It is obvious that its main purpose is to generate revenue by promoting third-party content that you probably do not want to see. So if you want to get your old homepage and new tab page back to how it was, please get rid of this program.
How to remove Recipes By inMind from Google Chrome
Press Alt+F.
Click More tools.
Go to Extensions.
Find the unwanted extension.
Click Remove.
In non-techie terms:
Our researchers have deemed Recipes By inMind as a potentially unwanted program due to a few questionable functions that are covered in this article. In short, Recipes By inMind can present questionable links and gather information about its users. Even though it displays food recipes as promised, the user experience is not that great. All these things combined make this program undesirable. So if you think the same, then you might want to remove Recipes By inMind.