Do you know what Raving Reyven is?
Most computer users rush to delete Raving Reyven because they recognize this advertisement supported program as a threat. The program does not have a menacing interface, and it is not capable of truly dangerous activity; however, you can be sure that interacting with it has its own risks. If you are not careful enough, you could discover the program flooding your browsers with the disturbing pop-up, banner and in-line offers. At first you may think that they are authentic and that you can use them to save money. This is not always the case, and sometimes interesting looking ads and offers may turn out to be misleading. This is a risk you can avoid by getting Raving Reyven removed.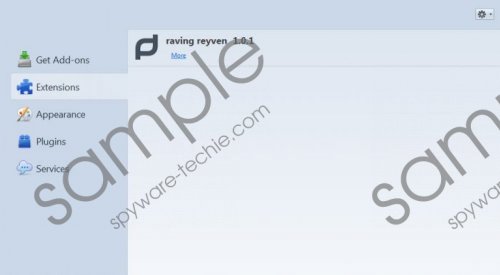 Raving Reyven screenshot
Scroll down for full removal instructions
Allgenius, Yawtix and HypeNet are few of the recently discovered SuperWeb LLC applications which are represented and which work in the same manner as Raving Reyven. The interface of ravingreyven.mobi is a red flag that, unfortunately, only more experienced users recognize. The truth is that the program is promoted like hundreds of clone applications which share the same Privacy Policy and which work for the same third-party affiliates. If an application were truly beneficial and reliable, you would not see tens and hundreds of its versions floating across the web. SuperWeb may have created a number of identical programs to trick more users into downloading them, and this most definitely can generate more profit. Do you want to trust an application which is clearly concerned about making more money instead of actually helping you? We believe that you want to delete Raving Reyven.
Authentic security tools should be installed onto the computer to guard the operating system against malicious threats which are extremely difficult to delete once they are infiltrated. If that kind of software is not active on your PC, you should install it now. Note that you can use this software to remove Raving Reyven or guard the operating system if you choose to delete adware using the guides below.
Delete Raving Reyven from Windows
Delete from Windows 8:
Access the Metro UI menu and right-click on the screen to open a pane.
Select All apps to open the Apps menu and click Control Panel.
Move to Uninstall a program and right-click the one you wish to remove.
Have no hesitations about clicking Uninstall.
Delete from Windows Vista & Windows 7:
Move to the left of the Task Bar, click the Start icon and select Control Panel.
Select Uninstall a program and right-click the application you wish to remove.
Click Uninstall and complete the removal of the suspicious Raving Reyven.
Delete from Windows XP:
Open the Start menu by clicking the button on the Task Bar and select Control Panel.
Now double-click Add or Remove Programs to find the undesirable software.
Click the undesirable application and select Remove.
In non-techie terms:
Malware researchers suggest Raving Reyven removal because this suspicious browser extension is not as beneficial as it claims to be. The program usually travels with bundled software and it may require removal as well. Use automatic malware removal software and you will not need to worry about detecting or getting rid of unreliable software. Keep this software updated even if you choose to delete Raving Reyven manually.