Do you know what RapidCheck is?
RapidCheck is a program aimed at providing you with information about your Internet connection. The program analyzes the system to ensure that it will operate normally and may also make some configurations in your proxy settings. The RapidCheck program works on Windows 7, Windows 8, and other operating system. You can find this program at rapidcheck.co, which is identical to speedyapp.co promoting an identical program named Speedyapp. The RapidCheck program is also identical to SpeedChecker and some other programs advertised on very similar websites.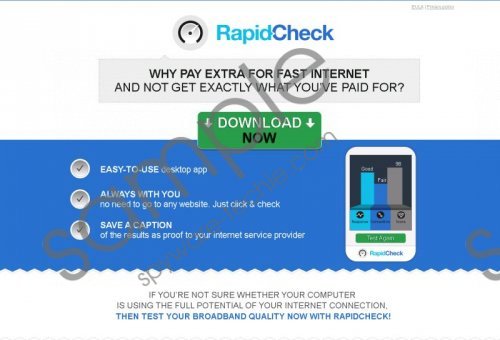 RapidCheck screenshot
Scroll down for full removal instructions
Although RapidCheck has its official website, it does not feature the setup file of the program. As a result, you have probably installed this program after launching a bundled installer where the RapidCheck program was presented as optional. The next time you download a free program, do not hurry to install it but get acquainted with the privacy statement or license agreement displayed by the installation wizard. Software distributors can bundle different programs depending on their intentions, and you should be alert to the possibility of being offered and unreliable program.
Our advice is that you remove RapidCheck from the computer, because this program is programmed to display third-party advertisements. The program is free of charge; hence, in return for the free service, you agree to put up with sponsored content. The developers of this program do not accept responsibility for third parties and your interaction with third-party websites, which enables cyber scammers to promote their deceptive programs using the service of RapidCheck. This behavior is typical of a great many advertising-supported programs, and our advice is that you avoid using such programs as much as you can.
Additionally, it is important to note that RapidCheck is capable of monitoring your interaction with their product and your browsing behavior. RapidCheck records the type of your operating system and Internet browsers, your IP address, browsing history, and some other non-personally identifiable information. It is possible that RapidCheck will share information about your browsing behavior with third parties, which may find a wide range of ways to use the data obtained. In order to prevent targeted advertisements and other changes, take action to remove RapidCheck from the PC.
Below you will find our step-by-step instructions that should help you uninstall RapidCheck, but our advice is that you implement SpyHunter. This program removes fake anti-virus programs, browser hijackers, Trojan horses, browser hijackers, and many other threats. Do not hesitate to implement a reputable security program so that you can safely browse the Internet and be sure that your personal data is protected against malware and spyware.
How to remove RapidCheck
Windows Vista and Windows 7
Click the Start menu.
Select the Control Panel option in the pop-up window.
Click Uninstall a program.
Remove the unwanted application.
Windows 8 and Windows 8.1
Press Win+R and enter control panel. Click OK.
Select the Uninstall a program option.
Remove the RapidCheck program.
Windows XP
Open the Start menu.
Click Control Panel.
Click the Add or Remove Programs option.
Uninstall the unwanted program.
In non-techie terms:
RapidCheck is a program whose stated intent is to inform you about the quality of your Internet connection. However, this program is advertising-supported, and we recommend that you remove it from the computer as soon as you can. Our instructions given below will help you install our recommended scanner, but you should feel free to contact our team in case you need any advice.