Do you know what Rapid Media Converter is?
Rapid Media Converter is a potentially unwanted application that could be exploited by cyber criminals for various crime schemes. The program itself is not a computer infection, but, if you happen to have it on your system and you do not know how it managed to enter your PC, you should remove Rapid Media Converter at once. The application might have been installed accidentally with some other freeware program you have recently downloaded from a third-party source. Either way, you must see to it that Rapid Media Converter and all the other potential threats get removed from your PC right now.
In fact, it is possible to download Rapid Media Converter from rapidmediaconverter.com. This is the application's homepage, and you can even read more about the program on the site. If you convert video and audio files, you might find Rapid Media Converter quite useful. The application is said to support MP3, FLV, MP4, MPG, WAV, AVI, and other formats. Thus, if you download Rapid Media Converter willingly, there should not be any problem with this application. HOWEVER, please take note that Rapid Media Converter is an ad-supported program, which means that sooner or later you will notice commercial advertisements on your screen.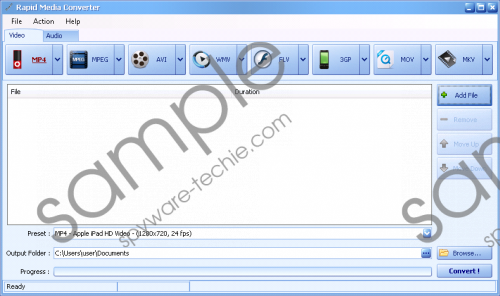 Rapid Media Converter screenshot
Scroll down for full removal instructions
Commercial ads are the main thing people complain about when they have Rapid Media Converter running on their computers. Even more so, the complaints are louder when the affected users had no intention whatsoever of having Rapid Media Converter on their systems. If you do not remember installing this application, it is very likely that Rapid Media Converter came in a software package, and now you have several undesirable programs on-board. The good thing about potentially unwanted programs, however, is that it is not complicated to remove them manually.
You have to avoid Rapid Media Converter ads because some of them might be embedded with unreliable content. Please refrain from clicking any of the pop-ups. You will do yourself a favor if you ignore them because you can never know who might exploit Rapid Media Converter to promote their corrupted content.
Open Control Panel right now and uninstall Rapid Media Converter manually. The application does not add any extension to your browser, so you do not need to modify your browser settings. However, it would be a good idea to scan your PC with the SpyHunter free scanner. As mentioned above, you are bound to have more unwanted applications on your computer, so you need to remove them all at once. This way you would save yourself the trouble of dealing with potential system security issues in the future.
How to Remove Rapid Media Converter
Windows 8 & Windows 8.1
Slide the mouse cursor to the bottom right of your screen.
When the Charm bar appears, click Settings and go to Control Panel.
Open Uninstall a program and remove Rapid Media Converter.
Windows Vista & Windows 7
Click the Start menu and select Control Panel.
Go to Uninstall a program and remove Rapid Media Converter.
Windows XP
Open the Start menu and go to Control Panel.
Select Add or remove programs and uninstall Rapid Media Converter.
In non-techie terms:
Rapid Media Converter is a freeware application that might cause various computer security problems. You should remove Rapid Media Converter from your system ASAP. At the same time, ensure that your computer is protected from various threats by investing in a legitimate antispyware application. Should you have any further questions or inquiries, do not hesitate to leave us a comment.