Do you know what Ransom Prank Ransomware is?
Ransom Prank Ransomware may infiltrate your system without your knowledge and lock your screen with its ransom note claiming that it has encrypted your personal files. However, our researchers tested this malicious threat in our internal lab and concluded that this ransomware does not actually encrypt anything. Instead, it tries to convince you about it to extort money from you for the decryption key. Clearly, this is great news considering that you could be much worse off right now losing all your files in a more serious hit. However, it would be a mistake not to take this attack seriously. You never know when a new version may emerge and strike hard. What if this is simply a test run? We cannot claim to know that there will be no new variants to follow. In fact, this hit should be a big sign for you to start saving regular backups. In a devastating ransomware attack, this could be the last resort for you to be able to recover your files. We have a solution for you now to remove Ransom Prank Ransomware from your system as soon as possible. But before we share this with you, we would like to help you see how this threat may have infected you and what you can do in the future to avoid such an attack.
The most likely way for you to let this ransomware threat on board is that you opened a spam e-mail with a malicious attachment. Of course, you did not know that it was a malicious executable, as such an attached file is always disguised as something else; for instance, an image or a text document with macro. You should never open e-mails that you feel doubtful about, let alone save their attachment to view it. In fact, running such a file would start up this malicious attack. The only good news in this story is that you can delete Ransom Prank Ransomware without any serious consequence. But it is still important to remember that you need to double-check every time you find a questionable mail either in your inbox or your spam folder. This spam can claim to regard any problem with your credit card, an online hotel booking, an unpaid fine, and so on. Make sure you only download attachments when they are certainly meant for you.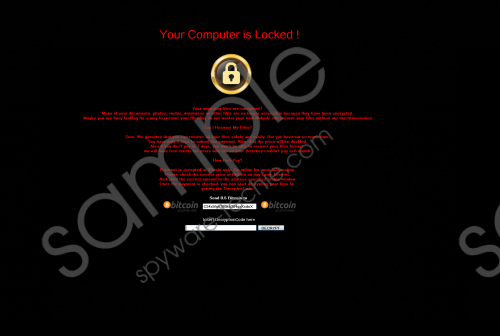 Ransom Prank Ransomware screenshot
Scroll down for full removal instructions
It is also possible that these crooks can gain access to your PC via the RDP (Remote Desktop Protocol), i.e., remote desktop connection when your software (e.g., TeamViewer) is not properly configured. In this case, your attackers can enter your system without your knowledge and activate this malicious threats. The only way for you to protect your PC against such an attack is to configure your remote desktop software properly and protect it with a strong password. In addition, you should also install a decent up-to-date anti-malware program that could automatically safeguard your system. No matter how this malicious program managed to slither onto your PC because you should delete it anyway.
This ransomware is not even a real ransomware in the sense that it does not seem to encrypt your files at all even though it certainly says so. Once you activate this malicious program, it locks your screen with its full-screen ransom note that appears in red letters on black background. Of course, seeing this note could be scary and you may really believe that your files have been encrypted. This infection wants you to pay 0.5 BTC, which is around 2,218 dollars, a rather steep price to ask individuals to come up with for the decryption key. If you cannot transfer this money to the provided Bitcoin wallet address within 3 days, the ransom fee doubles. The note itself is written with broken English, which could indicate that these attackers are foreigners; however, this can also be a purposeful act to mislead investigators or users. In any case, you do not need to panic as this version can be removed without any leftovers and damaged files. Please continue reading to learn how you can delete Ransom Prank Ransomware right now.
As a matter of fact, it is not even too difficult to eliminate this threat. First of all, you need to unlock your screen by either entering "12345" into the input field on the lock screen or pressing Alt+F4 to kill the malicious process. Only then can you take care of the related file. Please use our guide that we have prepared for you below this article. Since you may not be able to detect or fight the next malicious attack manually, we suggest that you think about investing in a reliable malware removal application like SpyHunter. But you can also do a lot by updating all your programs and drivers regularly and avoiding suspicious websites and e-mails.
Remove Ransom Prank Ransomware from Windows
Tap Win+E.
Find all suspicious files that you may have saved lately and delete them all.
Empty you Recycle Bin.
Reboot your PC.
In non-techie terms:
Ransom Prank Ransomware is not a severe threat in its current format but it can still scam you and that could cost you thousands of dollars. If you examine this malicious program from this perspective, you can say that it is indeed a dangerous ransomware. However, unlike most of its predecessors, this ransomware infection does not encrypt your files but simply claims so after locking your screen with its ransom note. Many may fall prey to this note and believe that there is really no other way out than paying the rather high ransom fee. We do not believe that every individual computer user would easily have over $2,200 to pay these criminals to recover some old photos and documents. Nevertheless, you do not even need to think about it this time as your files seem to be all fine and untouched by this ransomware. So all you need to do is remove Ransom Prank Ransomware immediately after you notice its ransom note. Protecting your system should be your number one priority if you want to feel safe in your virtual world. If you cannot seem to be able to defend it yourself, you should think about installing a professional anti-malware program.