Do you know what RankRomp is?
RankRomp is a potential computer security threat. It is an adware application that gets installed bundled with additional freeware. It means that users install multiple unwanted programs at the same time, and they do not understand the potential dangers of such practice. RankRomp might not be an immediate system security threat, but if you do not remove this application from your computer at once, there might be unwanted consequences. If you are not an experienced computer user, you should acquire a powerful computer security program to protect your system from harm.
Whenever you are bombarded with annoying commercial pop-ups, you have to run a full system scan with a diagnostic scanner. There is a good chance that you have RankRomp or any other adware application on your system. As far as RankRomp is concerned, this program belongs to the SuperWeb family. It means that RankRomp is another clone of Global Gadget, Screen Flip, Intense Results, and many other applications that have been developed by Super Web LLC.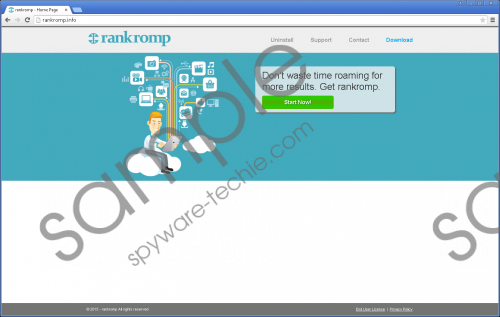 RankRomp screenshot
Scroll down for full removal instructions
It would seem you can download RankRomp from its official website at rankromp.info, but the website is highly dysfunctional. If you click the green Start Now! button you will be redirected to a new blank page. With that, we can see that the direct RankRomp download is out of the question. Thus, you might as well start scanning your computer for other adware apps because it is clear that RankRomp arrived in a software bundle. Consequently, get ready to remove several programs that could cause severe security issues in the future.
The reason RankRomp enters your computer is money. This adware application employs the pay-per-click system in order to generate financial income for its creators. When you click some pop-up ad, you are redirected to an affiliated website, and you increase its traffic. Subsequently, you also help people behind RankRomp make easy money. This kind of financial scheme is not illegal, but the problem is that RankRomp does not screen the third-party content that gets embedded into its ads.
As a result, RankRomp becomes a good target for cyber criminals who need a malware distribution vehicle. If the program gets exploited by malevolent third parties, RankRomp ads end up promoting outgoing links to corrupted websites that distribute malware. Then you could say that malware infection could be only one step away.
Protect yourself and your computer from any potential threats by removing RankRomp today. Please follow the manual removal instructions to uninstall the program. Should you have any further questions regarding RankRomp's removal or how to ensure computer's security, please leave us a comment.
How to Delete RankRomp
Windows 8 & Windows 8.1
Move the mouse cursor to the bottom right of the screen.
Click Settings on the Charm bar and go to Control Panel.
Select Uninstall a program and remove RankRomp.
Windows Vista & Windows 7
Click the Start menu and select Control Panel.
Open Uninstall a program and remove RankRomp.
Windows XP
Open the Start menu and navigate to Control Panel.
Select Add or remove programs and uninstall RankRomp.
In non-techie terms:
RankRomp is an annoying application that will spam you with commercial pop-ups. It will slow down your browser and exhaust your system resources. Remove RankRomp from your computer right now because this adware app might as well expose you to dangerous websites. Adware programs often lead to severe computer security problems so you should not ignore this issue. Solve the problem immediately.