Do you know what Rango XP Antivirus 2014 is?
If you do not take care of the security of your operating system, Rango XP Antivirus 2014 could attack. This misleading, fictitious security tool is a product of schemers responsible for the rogue malware detection and removal software from the Braviax family. Other infections similar to Rango XP Antivirus 2014 are XP Antivirus 2014, XP Antispyware 2014, and XP Protection 2014. If you remove these programs, but do not install reliable security software to guard the operating system in the future, the rogue could return with a different interface (e.g., XP Antivirus 2015) and new attack methods. Needless to say, right now you must focus on deleting Rango XP Antivirus 2014. If you do not remove this fake AV, it could lure out your money and potentially jeopardize your virtual security further.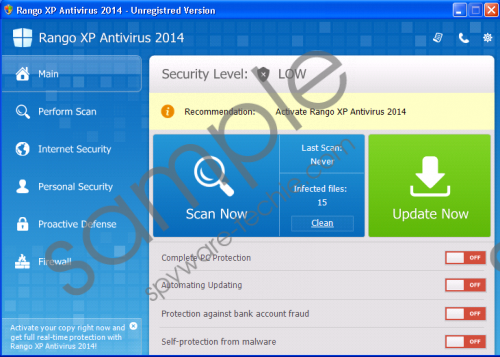 Rango XP Antivirus 2014 screenshot
Scroll down for full removal instructions
Rango XP Antivirus 2014 can be promoted using fictitious advertisements. If you come across an ad suggesting that some online scanner has detected malicious threats that you must delete, you should not interact with this advert. Instead, you should scan the operating system with a legitimate malware scanner. If you have not installed Rango XP Antivirus 2014 yourself, this rogue malware remover/system protector must have entered silently. The threat could be downloaded by existing Trojans, or it could be automatically executed is a user interacts with corrupted links and spam email attachments. If the execution is successful, the threat will firstly reconfigure the Windows Registry to ensure auto-start with Windows. Eventually, if you do not remove Rango XP Antivirus 2014 files in time, you will not be able to launch executable files. This can help schemers fool more computer users and, more importantly, aggravate Rango XP Antivirus 2014 removal. Unfortunately, there are plenty of Windows XP users who choose to purchase the full version of Rango XP Antivirus 2014 after discovering that they cannot launch web browsers, execute reliable security software installers, or operate the system in a regular manner.
You should not waste your money on Rango XP Antivirus 2014. This is a fake malware scanner that cannot be upgraded to a reliable malware remover or a trustworthy Windows security tool. If you purchase the promoted software, you will create more issues. For example, the information disclosed during the purchase could be used in the future to make illicit transactions. Furthermore, your email address could be used to introduce you to other infections. Needless to say, the manual Rango XP Antivirus 2014 removal is extremely complicated. Luckily, trustworthy automatic malware removal software can delete the threat in no time.
Delete Rango XP Antivirus 2014
Restart the PC, wait for the BIOS screen to appear, and start tapping F8.
In the Windows Advanced Options Menu select Safe Mode with Networking (use arrow keys).
Tap Enter, wait for the PC to reboot, and click YES on a presented alert confirming safe mode.
Launch a browser and visit http://www.spyware-techie.com/download-sph .
Follow the instructions to download a reliable security tool that can remove Rango XP Antivirus 2014.
Now move to the left of the Taskbar, click Start, and launch RUN.
Enter msconfig to open the System Configuration Utility.
Click the Startup tab, select All apps (or un-check all items), and click OK.
Restart the computer again (in Normal Mode) and install the downloaded malware remover.
Scan the PC and remove running malware.
In non-techie terms:
Rango XP Antivirus 2014 is a rogue anti-spyware which is disguised as an authentic security tool to convince users that they need to purchase a fictitious anti-malware tool. The threat blocks executable files, and so most users feel paralyzed. Needless to say, purchasing the fake malware removal tool is not a solution. What you should do is install an automatic malware remover to delete Rango XP Antivirus 2014 and other infections running on the Windows XP operating system.