Do you know what Rango Win 8 Antivirus 2014 is?
Rango Win 8 Antivirus 2014 is a deceptive program featuring the interface of an anti-virus program. Rango Win 8 Antivirus 2014 gets onto the computer without the user's permission while he/she is browsing malicious websites, interacting with deceptive advertisements, etc. Once installed, the rogue security program blocks executable files, including Internet browsers and security programs, in order to prevent the victim from removing the program. Most important, the Rango Win 8 Antivirus 2014 malware imitates system scans in order to make the unsuspecting user believe that the operating system is infected with Trojan horses, adware programs, and other malicious threats. You should ignore the attempts of Rango Win 8 Antivirus 2014 to lure you into purchasing the full version of the program and remove Rango Win 8 Antivirus 2014 as soon as you can.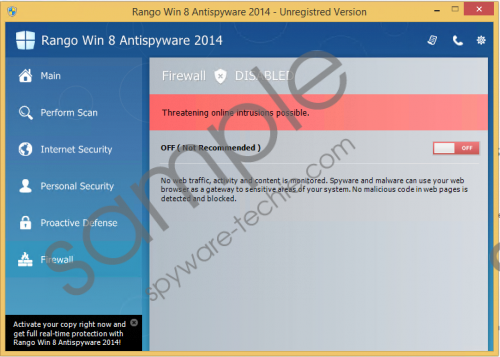 Rango Win 8 Antivirus 2014 screenshot
Scroll down for full removal instructions
Rango Win 8 Antivirus 2014 cannot be trusted because it is categorized as part of the Braviax malware family, also called FakeRean. Braviax malware is capable of changing the name according to the operating system. For example, computer users may encounter Rango Win 8 Antivirus 2014, Rango Win 7 Antispyware 2014, Rango XP Antivirus 2014, etc. This family of malware is not new to malware researchers because new threats are released almost every year. For example, earlier this year we were dealing with Win 7 Protection 2014, Win 8 Protection 2014, and some other identical programs.
As regards the activation of Rango Win 8 Antivirus 2014, the user is supposed to spend from $59.95 to $99.95, depending on what type of license he/she wants. Since the program cannot shield the system from malware and spyware, there is no need for you to waste your money on this useless program. Instead of investing money in the program which provides fake scan results, you should install a powerful and reputable program that can remove Rango Win 8 Antivirus 2014 for you in no time.
Rango Win 8 Antivirus 2014is a complex program, and the manual removal of this program requires a lot of knowledge and skills. If you have never tried to remove malware manually, do not try to do it this time, because your attempts may have some adverse consequences. Below you will find our instructions that will help you install our recommended security program SpyHunter, which can easily remove Rango Win 8 Antivirus 2014 and safeguard the system against multiple threats, such as Trojan horses, browser hijackers, ransomware, rootkits, etc.
How to remove Rango Win 8 Antivirus 2014
Go to the Start menu.
Move the mouse pointer to the lower-right corner of the screen.
Click Settings.
Select Change PC Settings.
Select General.
Click the Restart Now button under Advanced Startup.
Select Troubleshoot and click Advanced Options.
Click Startup Settings.
Click the Restart button and press F5 to enable Safe Mode with Networking.
Go to http://www.spyware-techie.com/download-sph and download SpyHunter.
Install the program and remove Rango Win 8 Antivirus 2014.
In non-techie terms:
Rango Win 8 Antivirus 2014 is a fake security program that makes the operating system inoperable. In order to be certain that your operating system is malware-free, you should rely on a powerful malware and spyware prevention program. If you have any questions concerning the removal of the program, feel free to contact our team.