Do you know what Rabbit Ransomware is?
There are hundreds and thousands of file-encrypting threats. The good news is that Rabbit Ransomware is not one of them. Although it claims to have blocked your computer, and it even makes threats to delete your personal files permanently, it is just a screen-locker. That means that your personal files are, most likely, just fine, and that the only thing to worry about is the removal of Rabbit Ransomware. Needless to say, although this infection is just a "poser," you need to take it very seriously. The sooner you delete this threat from your operating system, the better. Afterward, it is crucial that you strengthen the security of your system to ensure that other screen-lockers, real file-encryptors, and other kinds of malware cannot slither in. Please continue reading the report to learn all about this, and do not forget to post a comment below if you want to discuss the threat with our research team further.
At this point in time, it truly is unclear how Rabbit Ransomware spreads. Maybe its launcher is attached to an attractive program that is carried by a bundled downloader, or maybe it spreads using the good old spam emails. In any case, if it has invaded your system and locked the Desktop, there is a good chance that other threats exist too. Keep this in mind, and once you regain access to your computer, scan your operating system as soon as possible. The worst thing you could do is ignore invisible malware just because you do not take your time to do a thorough analysis. To make it impossible to terminate the malicious process via Task Manager, Rabbit Ransomware disables it using the "DisableTaskMgr" value in the HKCU\Software\Microsoft\Windows\CurrentVersion\Policies\System registry. We show you how to delete this value in the manual removal instructions below.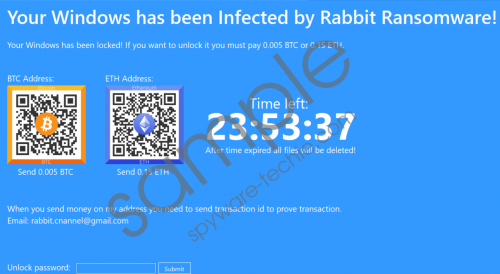 Rabbit Ransomware screenshot
Scroll down for full removal instructions
Of course, because Rabbit Ransomware appears to lock the screen, and you might be unable to get past the locker and check if your files are fine, you might choose to obey the demands. According to the message that the locker presents, your operating system was "infected" and "locked," and a ransom of 0.005 Bitcoin or 0.15 Ether must be paid within 24 hours. At the time of research, 0.005 Bitcoin and 0.15 Ether was around 25 USD. Needless to say, this is not a huge sum, and this is what might give the scam away. Real file-encryptors and PC-lockers demand much greater sums of money. Unfortunately, screen-locking infections can be successful as well, and there are plenty of them, including Wise Ransomware, Giyotin Ransomware, and Acroware Cryptolocker Ransomware. The ransom note presented by Rabbit Ransomware also instructs to email rabbit.cnannel@gmail.com to confirm the payment. Whether you want to confirm the payment or contact the attacker, you should NOT email them because that could create other security problems, and we are sure you do not want to be flooded with spam in the future.
As soon as you enter RabbCompany66 into the "Unlock password" box at the bottom of the screen-locker, your access to the computer should be restored. Do not check your email, log into social media profiles, or focus on sending out a Tweet about what you just experienced. First and foremost, delete Rabbit Ransomware! If you can locate the infection's launcher, remove it manually. If you are not able to do that, employ an anti-malware program that will find and Delete Rabbit Ransomware automatically. This tool can also eliminate other existing threats and ensure full-time protection, which is why our research team strongly recommends installing it right away.
Remove Rabbit Ransomware
Enter RabbCompany66 into the Unlock password box.
Delete all recently downloaded suspicious files.
Launch RUN by tapping Win+R keys at the same time.
Enter regedit.exe and click OK to access Registry Editor.
Move to HKCU\Software\Microsoft\Windows\CurrentVersion\Run.
Delete the value that belongs to the ransomware (the name could be Windows_Service, and the value data should reveal the launcher's location).
Move to HKCU\Software\Microsoft\Windows\CurrentVersion\Policies\System.
Delete the value named DisableTaskMgr.
Empty Recycle Bin to get rid of the infection completely.
Perform a full system scan using a legitimate malware scanner.
In non-techie terms:
Rabbit Ransomware poses as a malicious threat that, allegedly, has blocked your computer and has the power to remove your personal files. All of this is just a scam, and the only thing that should be on your mind right now is how to delete Rabbit Ransomware. If you also care about your operating system's security, you might want to install an anti-malware program that will be able to remove existing threats and also protect your operating system against the rest of them automatically. If you are not ready to think about your virtual security, follow the instructions above. Just note that the launcher file could be anywhere, and its name could be misleading. Unfortunately, if you are not able to identify and delete this file, you are unlikely to succeed.