Do you know what Quickfilmz.com is?
Advertising-supported applications might cause you inconvenience not only because they show ads, but also because they might take you to such websites as quickfilmz.com. Unfortunately, this website is not the only one. Our specialists have found out that there are dozens of other websites where you might end up if you have adware on your system. You should know that not all of them are reliable; thus, there is always a possibility that you will end up in a corrupted website and thus infect your system. If you are constantly seeing ads and being redirected to unfamiliar websites after clicking on them, you should definitely erase the program responsible for all the commercials first.
Plenty of advertising-supported applications enter the system without direct permission because they are usually installed together with other applications. It is especially true if you are downloading many free programs. In order to avoid adware, you should download software from reliable sources only and install them on your system very carefully. If you do so, you will be able to avoid various unfamiliar applications because users are usually informed about the installation of new programs in the setup wizard.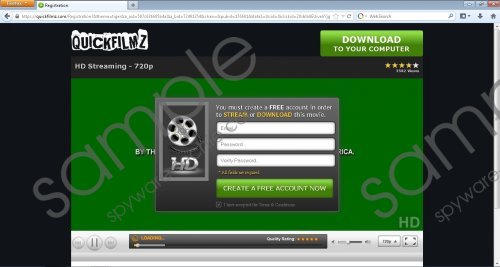 QuickFilmz.com screenshot
Scroll down for full removal instructions
Once adware gets on the system, it will definitely start showing various ads and pop-ups. If you click on them, you will definitely be redirected to other websites. However, if you have particular undesirable programs on your PC like YoutubeAdBlocker and SafeWeb, it is very probable that you will notice ads displayed by s.m2pub.com advertising domain. As it has been mentioned, you will be redirected to quickfilmz.com, filmlair.com, and cinabliss.com after clicking on them. It is known that some of these websites might offer you free service for 3 days if you enter your credit card details. If you do not cancel it, you will be charged each month. Many computer users forget about that and thus the publishers keep receiving money.
Luckily, you can always remove the adware responsible for quickfilmz.com and avoid different problems. Follow the instructions below and you will be able to do that. However, not all adware programs can be removed easily; thus, you should do not forget to scan your system with a reliable scanner like SpyHunter. It will scan your system very quickly and you will know whether there are no other threats residing in your PC.
Remove undesirable application from your PC
Windows XP
Open the Start menu.
Select Control Panel.
Click Add or Remove Programs.
Click on the unwanted application and then click Remove.
Windows 7 and Vista
Click the Start button to open the menu.
Select Control Panel.
Click Uninstall a program.
Right-click on the undesirable program.
Select Uninstall.
Windows 8
Access the Metro UI menu.
Select Control Panel.
Click Uninstall a program.
Right-click on the program that you wish to erase.
Select Uninstall.
In non-techie terms:
You should know that adware programs might not only redirect you to the websites that contain malicious elements, but also do other unwanted activities, for instance, collect the information related to your browsing habits. In order to prevent this from happening, you should remove the program and never install it again. Besides, you should acquire a reliable security tool in order to protect your system.
Aliases: Quick Filmz.