Do you know what Quick Radio Search is?
Quick Radio Search is a potentially unwanted program that works as a Chrome browser extension. It comes from a huge family of potentially unwanted programs called the Mindspark Toolbars family. All the apps from the group are known to have a certain individual feature that should make them useful and reliable, but they tend to enter target systems uninvited and that's precisely the reason we need to remove Quick Radio Search from your system, too. After all, you can easily employ original radio apps instead of using a random third-party one.
Like most of the other Mindspark Toolbars, Quick Radio Search comes with an official homepage, too. We can access it at quickradiosearch.com. The website doesn't really tell us much. It just says that with this extension, we can enhance our default search function, as "The Quick Radio Search extension enhances your default search powered by Yahoo with streamlined Radio search capabilities."
So, as you can see, Quick Radio Search doesn't offer an original search provider service. It employs Yahoo! Search to provide you with search results, and the search results will most likely be modified based on your likes and preferences. Now, you might ask, how can a program know your likes and preferences?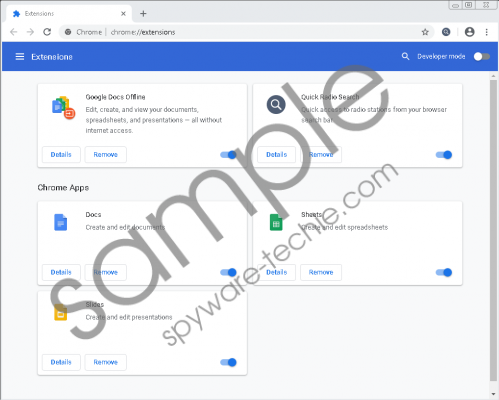 Quick Radio Search screenshot
Scroll down for full removal instructions
The truth is that potentially unwanted apps, especially those that get added to browsers, tend to employ tracking cookies to read web browsing history and collect information on your web browsing habits. When that information is collected and processed, Quick Radio Search (and other similar apps for that matter) can easily generate commercial content that would be customized especially for you. And with custom content, it is more likely that you click the promoted links to check them out. This is exactly what the program wants because that's why they make money – through the pay-per-click system.
There is nothing illegal about it, but if we're talking about an app that should help you listen to the online radio, why would it be so focused on third-party advertising? It looks like survival is more important for Quick Radio Search than the actual service it promotes. And that's one of the main problems with potentially unwanted applications. The side functions and additional features might overshadow the main function, and the app can easily become excruciatingly annoying.
Another thing we would like to point out is that Quick Radio Search cannot enter your system unless you give your permission to. Thus, it is VERY easy to avoid such applications as long as you remain attentive during your web browsing sessions. While it is true that Quick Radio Search can be added to your browser through its official website and the Chrome Web Store, the app might as well come bundled with freeware or through random pop-ups.
Hence, if you need to download new programs, make sure you download them only from their official vendor websites. Stay away from file-sharing pages and torrent sites that might bundle several applications together for marketing purposes. Also, during software installation, read all the steps in the installation wizard. If you encounter annoying pop-ups, just close them without clicking any "Add" buttons. If the pop-up doesn't want to be closed, use the Alf+F4 command to close your browser, and that should be it.
Luckily, it is rather easy to remove Quick Radio Search from your browser, and we provide the manual removal guidelines at the bottom of this description. However, please be aware of the fact that Quick Radio Search might be just one of the many unwanted applications on your computer. Since we've already mentioned that Quick Radio Search can come bundled, you might have installed many other random apps when you weren't looking properly.
How to find all the unwanted applications? Run a full system scan with the SpyHunter free scanner. It will definitely help you find the potential threats. Then, it's up to you how to want to remove them. You can delete them manually, or you can employ a licensed security tool to terminate them automatically. Just don't forget that you have to maintain your system clean and safe. And a security tool of your choice may not be enough to protect from various threats if you don't change your web browsing habits.
How to Delete Quick Radio Search
Open the Chrome browser.
Press Alt+F and go to Settings.
Select Advanced at the bottom of the page.
Scroll down and press Restore settings to their original defaults.
Click Reset settings on the confirmation box.
Scan your system with SpyHunter.
In non-techie terms:
Quick Radio Search is a browser extension that might be added to your Chrome browser accidentally. If you didn't want to have this extension, you need to remove it ASAP. This extension is not dangerous or malicious, but it could inadvertently redirect you to unfamiliar and possibly dangerous websites. Take your system's security into your hands and terminate all the potentially unwanted apps right now. Employ a reliable antispyware tool if necessary.