Do you know what QuericsSearch is?
QuericsSearch is a browser extension that offers a search website called search.querics.net. The mentioned search website has beautiful background pictures and displays time and date. Such features might seem attractive to some users. However, we do not recommend rushing with this extension's installation. That is because it was classified as a potentially unwanted program. While this category is not for malicious applications, it does not mean that users should lose their guard with such tools. Researchers say that some of them have undesirable or useless functionality. If you want to learn about how this extension works and other details about it, we encourage you to read our full report. We can also offer a removal guide available below that shows how to delete QuericsSearch manually in case you have installed it but do not want it anymore.
We should begin with QuericsSearch distribution. The application has its official website, and it might be available on the Chrome Web Store page. However, at the moment, we can see that the extension has no reviews or ratings on Chrome Web Store, and according to the platform's statistics, it has only two users. This does not surprise us as the tool is a potentially unwanted program, and there are lots of similar applications out there. We should also mention that potentially unwanted programs are often spread through file-sharing websites, pop-ups, and advertisements. Thus, it is possible that this application could be encountered while visiting file-sharing websites or sites that could show ads and pop-ups with promotions of it. Therefore, if you are wondering how you could avoid such programs, we recommend downloading applications from reliable sources, and only after you learn all that there is to know about them.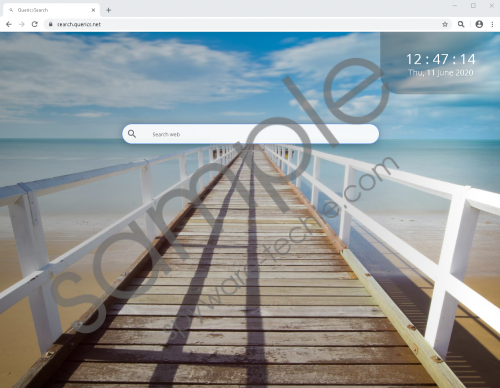 QuericsSearch screenshot
Scroll down for full removal instructions
How QuericsSearch works? As mentioned earlier, this extension provides a search tool. It does so by changing a user's default search engine or homepage with a search website called search.querics.net. This website provides a search box and pretty nature pictures in the background. While it might seem like an ideal search website, you should know that if you enter any keywords, you might get redirected to search.yahoo.com. Thus, it might be so that the extension's search tool cannot provide search results without the Yahoo search engine's help. Unlike similar, potentially unwanted programs, QuericsSearch does not use a modified version of Yahoo that would allow it to alter search results. However, we cannot be sure that it will not do so in the future.
All in all, the extension in question might provide a search tool that redirects to the Yahoo search engine. If you know that you can go to search.yahoo.com directly and do not need a third-party tool to use Yahoo, you may decide that you have no need for this application. In such a case, we could help you erase QuericsSearch. You can find our removal guide at the end of this article. It shows how to delete this potentially unwanted program manually. If you are not fond of erasing tools manually, you could get a reputable antimalware tool that would detect and remove QuericsSearch for you.
Erase QuericsSearch
Launch Google Chrome.
Press ALT+F.
Tap on More Tools and select Extensions.
Choose QuericsSearch.
Press Remove.
Click Remove again to finish.
In non-techie terms:
QuericsSearch is a potentially unwanted program, which means that users who install it may want to get rid of it. Usually, users wish to erase such tools due to their functionality, which could be undesirable or not as useless as expected. In this case, the extension offers a search tool that has pretty background images. However, it might be incapable of displaying search results since our researchers noticed that the extension's search website redirects to the Yahoo search engine. Since you can search via the Yahoos search engine without any third-party software, the application could seem useless if you are not that fond of its background images. In which case, you may want to erase this potentially unwanted program. If you decide to delete QuericsSearch manually, we can offer our removal guide available above this text. The other way to deal with the unwanted extension is to scan your system with a reputable antimalware tool that should detect it and help you get rid of it.