Do you know what Pushishere.com is?
Pushishere.com is an adware server that could ask you to click a button called Allow. If you are not sure what will happen if you click this button and whether it is a good idea to do so, we invite you to read our full report. In the text, we explain how you might come across this adware server, what you could do to stay away from similar sites, what you might receive if you press the Allow button, and how you could eliminate Pushishere.com if you do not want to see or keep any content related to it. To make the task of getting rid of this adware server easier we also prepared a removal guide that is available at the end of this report. If the instructions seem too challenging, you could get a reputable antimalware tool that would deal with this adware server for you.
Researchers say that redirection to adware servers could be initiated after a user interacts with some unreliable content, such as links on questionable websites, pop-up ads, and so on. Thus, it is important not to click on links carelessly if you do not want to be taken to websites that could show you third-party ads, or worse, offer you malicious apps or files. If you find it difficult to recognize doubtful websites or ads, we recommend making sure that your browser is up to date because the newer browser version you have, the more likely it will recognize new untrustworthy websites. Another thing that could make your browsing safer as well as help you secure your system is a reputable antimalware tool. If you have not picked such a tool yet, we highly recommend considering getting it if you care about your computer's safety.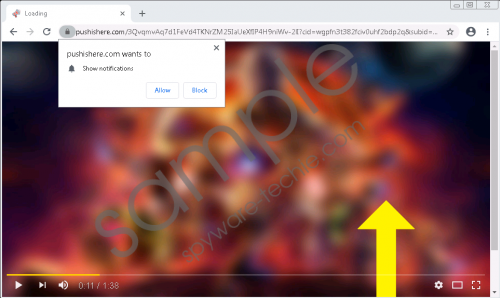 Pushishere.com screenshot
Scroll down for full removal instructions
If you get taken to Pushishere.com, you might see content that could make it look like the website is displaying a video that is paused or yet to be loaded. Soon after entering the site you might also receive a warning from your browser that ought to let you click either Allow or Block. Your first thought could be that you need to click the Allow button to be able to view the website's provided video, but if you read the message you should find out that you might receive notifications instead. In other words, the warning should tell you that the adware server wants to show you notifications. We cannot say whether you will get to see any videos if you click the Allow button after visiting Pushishere.com. Nonetheless, if you do not think that an access to a video is worth having to see notifications on your Desktop, we advise clicking Block.
Users who did click the Allow button, but now regret it and wish to remove Pushishere.com notifications from their Desktops could try resetting their browsers. The removal guide available below this paragraph can guide you through the process. Our researchers say that while a browser reset might help you eliminate the adware server, it could also delete your browsing history, extensions, and data alike. If you do not want this to happen, you could scan your computer with a reputable antimalware tool and let it eliminate Pushishere.com instead of resetting your browser.
Erase Pushishere.com
Google Chrome
Open your browser.
Type chrome://settings/system into the address bar and click Enter.
Look for the Reset and clean up section.
Click Restore settings to their original defaults.
Choose Reset Settings and confirm if needed.
Restart the browser.
Mozilla Firefox
Open your browser.
Type about:support into the address bar and press Enter.
Locate the Give Firefox a tune up section on the right.
Press the Refresh Firefox… button.
Click Refresh Firefox and confirm if needed.
Restart the browser.
In non-techie terms:
Pushishere.com is thought to be an adware server, which means that if you land on this website you might receive advertising content. However, our cybersecurity specialists say that the website might be unable to do so without getting your permission to show such content first. Therefore, it might try to convince you to click the Allow button displayed on the notification asking for permission to show notifications. As you see, the content displayed on the website might suggest that the site will let you see a video if you click the Allow button. Naturally, since the message that provides the allow button does not say anything about any videos, we believe that instead of a video you might only receive third-party advertisements. If you do not need such content on your Desktop, we recommend clicking the Block button or eliminating Pushishere.com if you clicked the Allow button instead. To get rid of its notifications you could reset your browser or employ a reputable antimalware tool.