Do you know what .PUMA Ransomware File Extension is?
Do not panic when you find the .PUMA Ransomware File Extension attached to personal files you can no longer open. Your files are encrypted, and that might cause you to lose your head, but that is exactly what the creator of this malicious infection wants. If you panic and grab onto the first opportunity to get your files back, the attackers might trick you into paying a ransom in return for decryption software. That is unnecessary because a free decryptor already exists. This decryptor was released by malware researchers, and you can use it to free your personal files as soon as you remove .PUMA Ransomware File Extension malware. If you cannot find the tool, leave a comment below. It is important that you remain cautious all the way because malicious and fake decryptors could exist. Enough about that. Let's discuss the removal of the malicious file-encryptor.
According to our malware experts, .PUMA Ransomware File Extension malware is quite vastly spread. This might be because the creator of this infection is experienced. It was found that the threat belongs to the well-known STOP Ransomware family, and KEYPASS Ransomware, INFOWAIT Ransomware, and many other infamous encryptors belong to it too. Who's to say that the same attacker is not behind all of them? It was also found that several different variants of .PUMA Ransomware File Extension malware might exist, as different variations of the ".puma" extension were discovered. A few others include ".pumax" and ".pumas." Besides attaching random extensions, the infection also creates quite a few components. One of them is a file named "!readme.txt," and you should find copies of this file everywhere you turn. This file, as you can tell by the name, presents a message that the attackers want you to read. The file is harmless, and you can open it, but when time comes to remove malware, do not forget about it.
The message that the attackers behind .PUMA Ransomware File Extension have is that you need to contact them by emailing an ID code to pumarestore@india.com or sending it via Bitmessage using BM-2cXonzj9ovn5qdX2MrwMK4j3qCquXBKo4h@bitmessage.ch. If you contact the attackers, they will ask you to pay money for the so called "decrypt software." The ransom note informs that the payment is expected, but it is not revealed how big the ransom is, and there is no information about the method of payment. The only thing we learn about the payment is that it would double in size after 72 hours. Even though you might see no harm in sending a short message to cyber criminals, you need to understand that they would use every and any opportunity to expose you to malware and scams. If you disclose your email address, you might find yourself deleting tons of spam emails every day; if you can recognize them in the first place.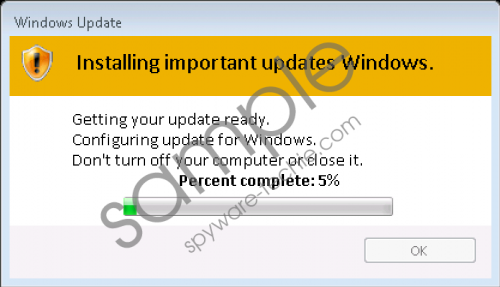 .PUMA Ransomware File Extension screenshot
Scroll down for full removal instructions
You can follow the instructions below if you want to delete .PUMA Ransomware File Extension threat manually. Of course, there are no guarantees that you will succeed. Due to this, the least thing you can do is install a legitimate malware scanner afterward to check if or not you succeeded. Obviously, if leftovers of the ransomware or other malicious threats are found, you need to delete them as quickly as possible. Did you know that you can remove .PUMA Ransomware File Extension malware and other threats, as well as reliably secure your operating system against further attacks by doing one thing? Install a legitimate anti-malware program, and your virtual security-related woes will disappear.
Remove .PUMA Ransomware File Extension
Launch Windows Explorer by tapping Win+E keys.
Enter %TEMP% into the field at the top.
If you find a suspicious [random name].tmp.exe file, right-click it and choose Delete.
Enter %LOCALAPPDATA% into the field at the top.
If you find a suspicious [random name] folder with a suspicious [random name].tmp.exe file inside, Delete it.
Also, check for a suspicious [random name] folder that should contain files named 2.exe and updatewin.exe. If you locate this folder, Delete it.
Delete a file named script.ps1.
Exit Explorer and then launch RUN by tapping Win+R keys.
Enter regedit into the dialog box to launch Registry Editor.
Move to HKEY_CURRENT_USER\Software\Microsoft\Windows\CurrentVersion\Run.
Delete the value named SysHelper if its value data points to the malicious %LOCALAPPDATA%/[random name]/[random name].exe file.
Empty Recycle Bin to complete the process.
Install a legitimate malware scanner to check if you need to delete anything else.
In non-techie terms:
Dot not bother deleting .PUMA Ransomware File Extension from the corrupted files. Focus on deleting the malicious infection that encrypted them. Even though your files will not be restored if you remove the threat, they will not be restored if you pay the requested ransom payment either. Luckily, a free decryptor appears to exist, and once you download it, all of the encrypted files should be restored. Of course, we cannot guarantee success because we did not test this third-party tool. Nonetheless, at least you have an option. Our biggest concern is that you remove .PUMA Ransomware File Extension malware. If you are not able to do that using the guide above, install an anti-malware program that will eliminate it from your operating system along with all other threats – if they exist – automatically.