Do you know what PuddingQuotes is?
This program has nothing to do with pudding or quotes. It may try to convince you that the program has been developed to help you find the best cafes in your area, but we know better than that. We have seen similar applications before, and we know for sure that PuddingQuotes is an adware application that is not interested in improving your culinary experience. The only thin this application wants to do is make money for its creators. Some of the tactics employed by the program may prove to be slightly dangerous, so as any other security-minded user out there, you will do yourself a favor if you remove PuddingQuotes right now.
It looks like this program is slightly underdeveloped, too, because the address of the official website is not puddingquotes.com, but maya-nata-qoo0.squarespace.com. Our security researchers believe that the address will be changed later on, but it does not mean you will be able to download the program from the site. The main distribution method employed by PuddingQuotes is bundled downloads. This would mean that the program comes in a package with a few other freeware applications. Sometimes users download freeware programs from third-party sources themselves. Something the download gets initiated automatically when users open specific pages or click on random pop-up ads. Whichever it might be, the bottom line is that you have to employ safe web browsing habits to avoid the likes of PuddingQuotes.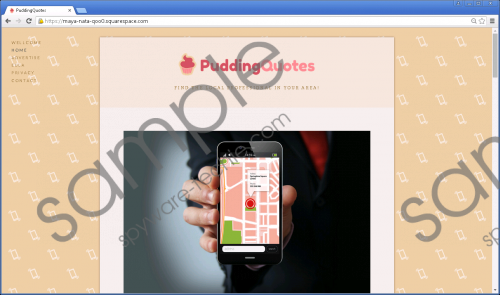 PuddingQuotes screenshot
Scroll down for full removal instructions
Our research shows that PuddingQuotes is similar to PastaQuotes, PastaLeads, PureLeads, BBQLeads, and so on. Consequently, the program's behavior is no more different from its predecessors. When you install this application on your PC (albeit unwittingly), it will start collecting information on your web browsing habits. Soon enough the program will know what queries you enter into your search engine and which websites you frequent the most often. With such information at hand, PuddingQuotes will be able to generate a flow of custom ads that will be tailored to your liking.
The fact that PuddingQuotes displays commercial advertisements is also covered in the program's EULA. For instance:
During your use of the Service we may present you with advertisements or promotional material such as discounts, coupons, and vouchers provided by external advertisers including but not limited to, by the Service Providers ("Promotions"). These Promotions may contain cookies, which the advertiser may collect.
Take note of the phrase "external advertisers" in the message. This means that PuddingQuotes is not responsible for the content you see in the ads, and it does not even review it for safety. Thus, if you happen to click any of the advertisements, and they redirect you to a dangerous website, PuddingQuotes would not be liable for that.
That is why we always emphasize how important it is to remove adware programs early on. If you deleted all the unfamiliar and potential harmful applications from your computer the moment you notice them, you would save yourself the trouble of dealing with far more dangerous threats.
It is possible uninstall PuddingQuotes via Control Panel, so do not waste your time and do it right now. As for other unnecessary programs that might be running on your PC, scan the system with the SpyHunter free scanner and locate them all. When you have the list ready, remove the applications automatically at the same time protecting your computer from harm.
How to Remove PuddingQuotes
Windows 10 & Windows 8.1
Right-click the Windows icon on the bottom left corner of your taskbar.
Click Control Panel on the drop-down menu.
Select Uninstall a program and remove PuddingQuotes.
Windows Vista & Windows 7
Open the Start menu and navigate to Control Panel.
Click Uninstall a program and remove PuddingQuotes.
Windows XP
Press the Windows key and select Control Panel.
Access Add or remove programs and uninstall PuddingQuotes.
In non-techie terms:
PuddingQuotes is a program that will only cause you a headache. The app will flood you with annoying pop-ups, full of outgoing links that could lead you to corrupted website. Please do all you can to protect your PC and your personal information from potential exploitation by removing PuddingQuotes right now. Should you need any assistance with unwanted software removal, do not hesitate to contact us by leaving a comment. Your computer's security should be your utmost priority.