Do you know what PublicHotsp is?
PublicHotsp is a potentially unwanted program (PUP) that may travel with bundled software installers and so some users could receive it unknowingly. Later in the article, we will discuss bundled installers and explain to you how you could avoid receiving unwanted tools or stay away from installers bundled with unreliable programs. Another thing users who encounter PublicHotsp should know about it is that the application may place adware on the system and because of it, the user might be seeing various untrustworthy advertisements from unknown sources. Therefore, we do not think this software can be trusted, and if you do not believe it either we recommend deleting it from your computer at once. The removal guide available a bit below the article should help you erase the PUP manually. However, before scrolling below, we invite you to learn more about this application by reading the rest of our text.
PublicHotsp might have an official website where users could download it, but to do so, one must know about the application. According to our computer security specialists, it is doubtful the program could be well-known as it comes from unknown developers. It is more likely that the PUP might be distributed via bundled installation files the user could receive from various P2P file-sharing networks and web pages. Another reason we think this might be true is because we have encountered a few other similar suspicious tools (DiskPower, Speedownloader, etc.) and they were distributed just the same.
In some cases, one can avoid bundled applications even after launching a bundled installer. As you see some of these setup files allow to pick custom or advanced installation settings and by doing so the user can learn about additional software suggestions and even deselect them. No doubt, another way to keep away from potentially dangerous programs that could be suggested on questionable setup files is to avoid such installers. Users can do this if they stop visiting torrent and other untrustworthy file-sharing web pages. Instead, it would be advisable to pick programs created by reputable developers and download them from their official web pages.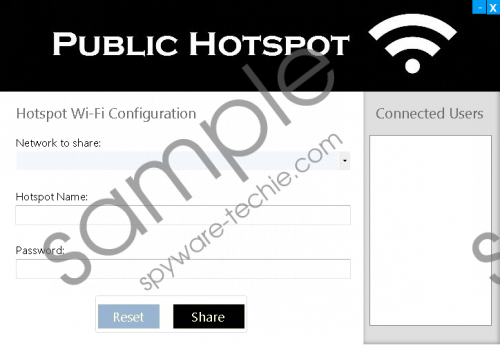 PublicHotsp screenshot
Scroll down for full removal instructions
Furthermore, during the PublicHotsp installation, it should create a particular Registry Entry and place its data in the %PROGRAMFILES% and %PROGRAMFILES(x86)% directories. Besides, our researchers have learned the PUP could also install an adware application. For example, the sample we tested, placed a tool called M4IS7KPXV.exe in the C:\Program Files(x86)\M4IS7KPXV7 directory. Given it is adware and considering how it appears on the system, it is entirely possible it might show users questionable third-party advertisements that may lead to possibly dangerous or harmful web pages. Under such circumstances, even if the tool works as it is supposed to, we do not think it would wise or worth keeping it installed.
Users who decide to erase PublicHotsp should know it can be done in two ways. For starters, we could suggest following the removal guide available below the article. Just before picking this option, keep it in mind, it will only show you how to deal with the PUP. As for the adware application that might have been installed on the system, it might be random, and so we cannot know how it should be eliminated. Nonetheless, there is a way to get rid of PublicHotsp and the suspicious adware it could install at the same time if you are willing to install a reputable antimalware tool. Then pick a trustworthy tool, install it on the computer, perform a system scan, and remove all detections by clicking the provided deletion button.
Erase PublicHotsp
Press Windows Key+E.
Navigate to these two paths separately:
%PROGRAMFILES%
%PROGRAMFILES(x86)%
Find folders called publicHotsp, right-click them and select Delete.
Close File Explorer.
Press Windows Key+R.
Type Regedit and click Enter.
Navigate to: HKEY_LOCAL_MACHINE\SOFTWARE\Wow6432Node\Microsoft\Windows\CurrentVersion\Uninstall
Find a key called ShutdownTime_is1, right-click it and select Delete.
Close Registry Editor.
Empty Recycle Bin.
In non-techie terms:
PublicHotsp is a program that allows the user to create Wi-Fi hotspots, but this is not all. Our computer security specialists have discovered it may also install an adware application once it settles in. Such a tool might show various advertisements from unknown sources, and the risk is that some of them could advertise not the most reliable content, for example, scam web pages, similarly untrustworthy software, and so on. Naturally, if you notice such ads, we would advise you to be extra careful. Plus, if you care about your system's safety we would recommend taking no chances with this PUP. Users who would like to eliminate it manually should follow the removal guide available a bit above, although using a reputable antimalware tool might be even better since this way you could not only get rid of PublicHotsp but also the adware application it may have installed on the computer.