Do you know what Proxy Gate is?
If you have downloaded Proxy Gate from its official website, proxygate.net, it is unlikely that you will witness any unwanted symptoms or malicious activity. However, if you install this program via a software bundle packaged with third-party software, you could start seeing ads. The program is used to reroute traffic via different channels, and unreliable software could exploit this tool to reroute traffic to malicious sites and deliver advertisements. For example, malicious advertising-supported software could modify the program to introduce you to unreliable advertisements. Needless to say, you need to delete Proxy Gate if it was modified to showcase suspicious ads and reroute you to unreliable sites. If you have no clue how to get rid of this program, please continue reading.
The corrupted version of Proxy Gate does not have an interface that the user can control. The interface is hidden to ensure that the malicious redirecting could be initiated without any disruption. When the proxy settings are modified, web traffic can be redirected via proxy servers to showcase ads. Needless to say, it is unlikely that reliable parties will use this software to showcase their products or services. On the contrary, it is more likely that the malicious version of Proxy Gate will be exploited by schemers to introduce you to unreliable surveys, prize giveaways, shopping deals, and various offers that, we are sure, will be made to appear attractive. Interacting with these ads could be extremely dangerous, and we do not recommend it under any circumstances. For all you know, they could conceal malware installers and devious virtual scams leading to monetary loss or leakage of sensitive information.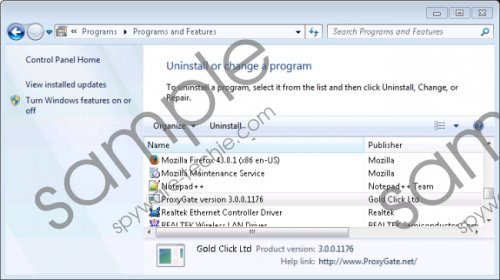 Proxy Gate screenshot
Scroll down for full removal instructions
It is very important to identify which third-party programs might have invaded your PC along with Proxy Gate. It is easiest to employ a malware scanner to identify all threats, but users are often scared to download additional programs after letting in malware. Of course, you have to be careful when downloading a malware scanner because fake scanners are created by cyber criminals as well. Overall, once you find a legitimate scanner, it will help you identify all threats, and you will be able to plan your attack against them. The good news is that it is very easy to remove Proxy Gate manually, and, hopefully, all other threats active on your PC will be easy to get rid of as well.
You can use automated malware detection and removal software to have all unreliable programs and their components eliminated from your PC automatically. If you do not know which software to use, you can start a discussion below. If you are leaning towards manual removal, you can follow the steps shown below. As mentioned already, it is easy to delete Proxy Gate manually. What we cannot guarantee is that it will be just as easy to clean your operating system from all other threats. Due to this, you should research every single threat found on your PC individually to see if you can erase all of them yourself. Obviously, if you discover complicated infections, we advise wasting no more time and installing automated anti-malware software right away.
Delete Proxy Gate from Windows
Windows XP
Move your cursor to the left of the Taskbar and click Start.
Open Control Panel and double-click Add or Remove Programs.
Find the unwanted program, click it, and select Remove.
Windows Vista and Windows 7
Move your cursor to the left of the Taskbar and click the Windows logo.
Open Control Panel and move to the Uninstall a program menu.
Right-click the program you wish to eliminate and choose Uninstall.
Windows 8, Windows 8.1, and Windows 10
Launch the RUN (tap Win+R) and enter Control Panel into the dialog box.
In the Control Panel menu move to Uninstall a program.
Identify the program you wish to erase, right-click it, and choose Uninstall.
In non-techie terms:
Our research team identifies Proxy Gate as a potentially unwanted program because it could be exploited to redirect web traffic via set proxy servers and introduce you to unreliable content. The original version of this program is not considered malicious, but you have to beware of the modified version. Unfortunately, this version might be concealed, and, depending on the malicious installer, it could even be downloaded without your permission. Overall, if you notice suspicious activity, you should immediately employ a legitimate malware scanner to inspect your PC. We encourage you to erase all detected threats using an automated remover. If you wish to handle them manually, make sure you do your research beforehand.