Do you know what ProtectSurf is?
ProtectSurf is an application that might seem really useful at first sight because it promises to put a barrier between you and malicious web pages. In other words, this program seeks to help you not to end up on the websites full of malware. Unfortunately, specialists have noticed that ProtectSurf is not going to act in a very beneficial way. In other words, it does not block any bad URLs. Of course, we cannot say that this program does not do anything; however, we are sure that you will not like its activities. Specialists have noticed that ProtectSurf generates and shows hundreds of advertisements on a user's screen. They will appear no matter you use Internet Explorer, Google Chrome, or Mozilla Firefox. If you already see these ads and want to eliminate them all, you should delete ProtectSurf from your system immediately.
The research carried out by our security specialists has shown that ProtectSurf will show banners, pop-ups, interstitial ads, coupons, video-targeted ads, and various offers. As you can see, ProtectSurf is ready to show hundreds of different commercial advertisements. All these ads might not allow you to surf the Internet freely because they will keep appearing and you will have to close them all to see what they cover. What is more, there is also a risk that advertisements will take you to untrustworthy web pages because there are links integrated into them, but, unfortunately, these links are not always reliable. If you want to protect your PC from malware, you have to delete this adware from your system. In the meantime, try not to click on any of those ads you will see on your screen.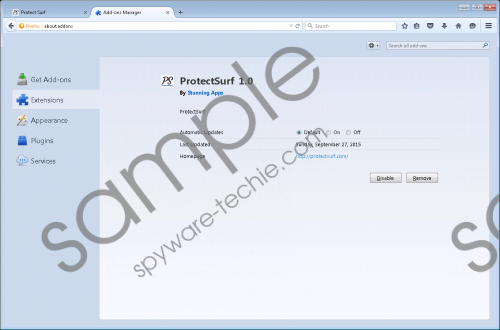 ProtectSurf screenshot
Scroll down for full removal instructions
It has been also observed that ProtectSurf will collect non-personally identifiable information about you. This includes web log information, city and country you are located, information about your PC and your browser, your IP address, and much more. Even though this program declares that it collects non-personally identifiable information only, our specialists believe that it might be interested in sensitive information too. Moreover, there is no doubt that this program will disclose all the collected details to third-parties. We do not think that you want to share this data with anyone. Thus, we suggest removing ProtectSurf as soon as possible in order to stop this from happening. Do not forget to install a security tool on your system after the removal of this adware because there are hundreds of other advertising-supported applications that want to enter your system.
Unfortunately, ProtectSurf cannot be removed via Control Panel, so you will have to erase its files manually. If you are not ready to erase applications yourself, you can simply scan your computer with an automatic malware remover, such as SpyHunter. You will just have to do it once in order to erase all the existing programs from your system.
Delete ProtectSurf
Tap the Windows key + R.
Enter %PROGRAMFILES%\ProtectSurf, click OK, and delete all the files.
Repeat the 1st step and enter %PROGRAMFILES(x86)%\Bench .
Click OK.
Remove all the files that belong to ProtectSurf.
In non-techie terms:
In order to protect your system from similar threats, it is very important that you install a security tool on your computer. In addition, it is advisable to install new programs carefully in order not to install undesirable applications unknowingly. Finally, our security specialists suggest that you get rid of all the existing infections and keep your computer clean all the time. It is advisable to do that because undesirable programs might be responsible for the entrance of other threats too.