Do you know what Protective Antivirus 2015 is?
Protective Antivirus 2015 is a fake antivirus program that emulates the behavior and appearance of genuine computer security applications. It is an intrusive and dangerous infection else known as the rogue antispyware. Users must remove Protective Antivirus 2015 from their computers if they don't want to lose their money. On top of that, fake AV programs can easily cripple affected computers to the point they would no longer be operable. Thus, Protective Antivirus 2015 shouldn't be taken lightly. Your job is to get rid of this application as soon as possible.
If you often receive spam email messages, you should delete them too because spam emails are the main distribution method employed by rogue developers. If you open an attachment to any of the spam email message you receive, there is a good chance that you will be infected with Protective Antivirus 2015. Once the infection takes place, Protective Antivirus 2015 will modify your Windows Registry in a way that the program will load automatically every time you turn on your computer. When it loads, the rogue will run a fake system scan, detecting such "infections" as Backdoor:Hackdef.Y, Backdoor:Ginwui.A, Backdoor:Win32.Scrab.p, and many others.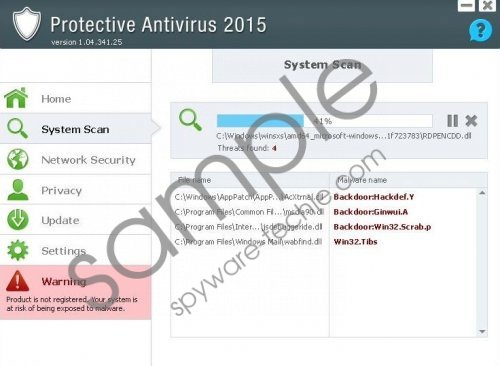 Protective Antivirus 2015 screenshot
Scroll down for full removal instructions
Don't be surprised to see that most of the names on the list belong to actual computer infections. However, Protective Antivirus 2015 does not have the ability to detect malicious threats because it is a security issue itself. This rogue comes from the Braviax family, and it is closely related to Malware Defender 2015, System Defender, and other similar nuisances. These rogues are good at imitating virus infection symptoms and emulating the behavior of an actual antimalware program.
For example, Protective Antivirus 2015 will block your executables under the pretense that most of your programs are infected, and thus they must be closed, to prevent the infection from spreading further. It will also display various pop-ups on your system tray, indicating that malicious programs have been "detected" on your computer, for instance:
Security Warning
Malware program has been detected
Click here to protect your computer.
You should never follow Protective Antivirus 2015's instructions because purchasing the full version of the application for $129.99 would not solve anything. On the contrary, you would reveal your credit card information to cyber criminals, and they would make use of it performing various illegal financial operations. Thus, it is not just your computer that is at risk, it affects your financial stability as well.
To bypass the rogue's defenses, in order to remove Protective Antivirus 2015, you need to load your system in the Safe Mode with Networking. The instructions below this description work for Windows Vista, Windows XP and Windows 7 operating systems. As for Windows 8, we provide separate instructions.
It is not recommended that you try and remove Protective Antivirus 2015 manually because rogue infections are too complicated for an average computer user to deal with. You will do yourself a favor if you invest in a licensed antispyware tool that will delete this infection for you automatically.
Remove Protective Antivirus 2015 from Windows 8
Tap the Windows key to see the Metro UI menu.
Open the Charm Bar and click Settings.
Move to Change PC Settings, select General and go to Advanced Startup.
Click Restart Now, go to Troubleshoot and select Advanced Options.
Click Startup Settings, then press Restart. Tap F5 to reboot the PC.
Go to http://spyware-techie.com/download-sph and download SpyHunter.
Install the application, run a full system scan.
In non-techie terms:
Protective Antivirus 2015 is a dangerous computer infection that will not allow you to load your programs. It pretends to be a real computer security tool so that you would give away your money. Remove Protective Antivirus 2015 without further ado and secure your system against similar threats in the future.