Do you know what Pro Speed Check is?
Pro Speed Check is a browser extension that allows users to test their Internet speed. If you were looking for such a tool and came across this application, you should know that it was classified as a potentially unwanted program. Apparently, it can change user's default browser settings, which some users may find irritating. Our researchers say that there is a chance it could also gather information about the user's browsing habits and show advertisements from various third parties. You can find out more about this potentially unwanted program while reading the rest of our report. If you decide you do not want to have such a browser extension on your computer, you could erase it while following the removal guide available below this article. Also, you can leave us a comment at the end of this page if you have more questions about Pro Speed Check or need help while deleting it.
Like most Google Chrome extensions the application is available on Chrome Web Store (chrome.google.com/webstore/detail/pro-speed-check/nognlmgiboflbpbfhhpaapgkhegnnekk). It might seem strange that potentially unwanted programs are available on legitimate websites. Since it is not considered malicious, users should look out for such applications themselves. Of course, with time they may get removed because of user complaints or if they seem to be potentially dangerous. In any case, the truth is that many potentially unwanted programs are spread through other channels too. For example, Pro Speed Check could be bundled with other programs alike or it may come through a redirect. Thus, we advise not to download installers from unreliable websites and not to click suspicious pop-ups if you are not sure the content they suggest is trustworthy. Additionally, you should keep a legitimate antimalware tool that could guard the system against various threats.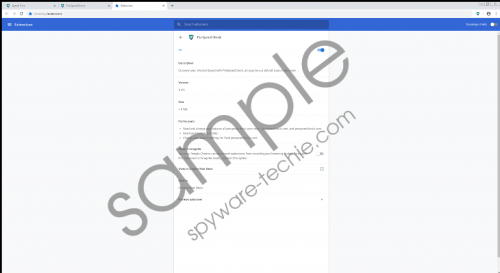 Pro Speed Check screenshot
Scroll down for full removal instructions
After Pro Speed Check is installed it may change some browser preferences, for example, default search engine, new tab page, or homepage. This is why once affected Google Chrome may start redirecting to the extension's search engine called feed.prospeedcheck.com when a user launches it, opens a new tab, or starts a new search. The problem with this search tool is that it might display modified results. It means they could be altered by the potentially unwanted program, for example, to insert third-party advertising content. Often such ads are based on user's interest that the tool could learn by gathering information about the user's browsing habits. We cannot be certain Pro Speed Check will display such content through feed.prospeedcheck.com and the modified search engine it employs, but there is such a possibility and if you do not want to risk receiving such content, we advise deleting the application.
Users who need a tool to test their Internet speed could pick one of the reputable online Internet speed checkers. To remove the potentially unwanted program manually we advise using the removal guide provided at the end of this paragraph. Another way to deal with Pro Speed Check is to scan the system with a reputable antimalware tool of your choice. All you have to do is install preferred security tool, wait until it scans the system, and then press its displayed deletion button to get rid of all identified threats at the same time.
Erase Pro Speed Check
Open Google Chrome.
Insert chrome://extensions into the address bar and press Enter.
Search for Pro Speed Check and click Remove.
If needed, confirm you wish to Remove it.
Close your browser.
In non-techie terms:
Pro Speed Check is a browser extension targeted at Google Chrome users as it does not work on any other browser at the moment of writing. Since it may change users browser preferences and it is possible it could show third-party advertising content, the tool falls under the classification of potentially unwanted programs. It does not mean it is dangerous, although it is possible it could introduce users to suspicious content through third-party ads and as mentioned earlier, it may have unwanted qualities. Our researchers say its Internet speed testing tool works, but you can surely find lots of similar online applications that would not require any installation. Thus, if you do not want to keep this extension, we recommend finding an online Internet speed tool to test your speed and erase the potentially unwanted program. To deal with it manually, you could follow the removal guide placed above or you could employ a reputable antimalware tool of your choice.