Do you know what Pro Search TIp is?
Pro Search TIp is a Google Chrome extension that is considered to be a potentially unwanted program (PUP). That is because the application may change the user's default search engine with a search tool that could display unreliable advertising material. Our computer security specialists advise being careful with such content as even though it could seem interesting or useful, there is a chance some of it might originate from potentially malicious sources. We will talk about this further in the text, so if you still cannot decide whether you should leave Pro Search TIp on your browser or not, we highly recommend reading our full report. As for users who choose to eliminate the PUP we encourage following the removal guide placed at the end of the text or picking a reputable antimalware tool of their choice.
The extension can be downloaded from Chrome Web Store page or its homepage called prosearchtip.com, but since it is a PUP, our computer security specialists say it is likely Pro Search TIp could be distributed with bundled setup files. It means users could receive it while installing other programs. Lots of installers that are bundled with unreliable applications come from P2P file-sharing websites and sites alike. The tricky part about bundled programs is they are easy to miss or in other words not to notice, especially if the user is in a hurry. Keep in mind that no matter how much you want to rush the installation it is far better to stay focused and review each term carefully. If you notice any additional applications that you do not wish to receive you should deselect them or cancel the installation process if there is no way to deselect them. To identify tools that might not be trustworthy, you should look for expert reviews or install a reputable antimalware tool.
After Pro Search TIp is added on Google Chrome, it might change the user's default search engine with search.prosearchtip.com. Our computer security specialists noticed that the tool redirects search queries to a modified version of Google's search engine. It may allow the PUP to place additional advertising content from its third-party partners along with the gathered results. If you see such advertising material, we recommend being cautious with it. We learned that the extension's developers disclaim all warranties related to third-party content, which means if anything happens while you interact with third-party ads or other material, you could be solely responsible for it. Some of the ads displayed by PUPs, browser hijackers, and tools alike might ask to participate in fake lotteries or surveys, invite to web pages containing malware, or advise installing more untrustworthy software. If you want to avoid such content more than you want to keep using search.prosearchtip.com, we recommend deleting Pro Search TIp.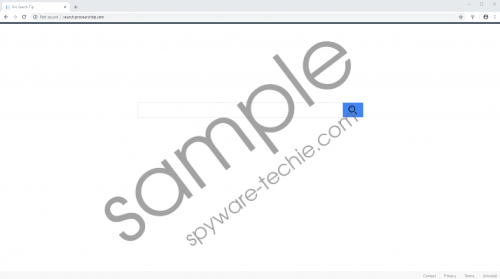 Pro Search TIp screenshot
Scroll down for full removal instructions
To get rid of the PUP manually you could complete the steps provided in the removal guide placed slightly below. They will show how to remove Pro Search TIp from Google Chrome, which is currently the only browser it is compatible with. Users who prefer using automatic features could download a reputable antimalware tool instead, scan the computer with it, and then get rid of the extension in question by pressing the displayed deletion button.
Eliminate Pro Search TIp
Open Google Chrome.
Paste this link: chrome://extensions into the browser's address bar.
Press Enter and search for Pro Search TIp.
Tap Remove and exit Extensions menu.
Restart your browser.
In non-techie terms:
Pro Search TIp is a PUP or a potentially unwanted program. It does not mean the extension is harmful, although it means it could have unwanted qualities. In this case, it could be the way the application changes the user's default search engine upon its installation. Also, some users may find it annoying that the extension's search engine could show annoying and potentially dangerous advertisements. If you find the extension irritating, you could get rid of it in no time by following the removal guide available a bit above this paragraph. Another way to make sure the PUP leaves your system is to employ a reliable antimalware tool. Scan the computer with it and wait till it lets you erase the unwanted program along with other possible detections at the same time.