Do you know what Pro Flip Ads are?
Even though it might seem as if Pro Flip Ads can offer you great deals, the add-on that is introducing you to them is just another ad-supported program that serves third parties instead of you. The add-on is called "Pro Flip," and you can acquire it from an official download page pro-flip.apps-repo.net/us/install. If that is where you have downloaded the extension onto Google Chrome from, you might be able to focus on the ad-supported program completely. Is it malicious or dangerous? That depends on how you interact with it. If you let it in, you grant it the permission to record and change data on the sites you visit. What does that mean? That means that the adware can scan the content of the sites that you visit and introduce you to ads and offers based on it. Although that might seem like a useful feature, in reality, it could be dangerous. Keep reading to learn more about this, as well as how to delete Pro Flip Ads.
If you have not downloaded Pro Flip from its official website, it is most likely that you have interacted with a third-party installer that might have bundled multiple programs together. Have you downloaded the adware along with hijackers, PUPs, Trojans, and other kinds of malware? If you do not know, you can install a malware scanner to check things out, just make sure that the scanner you employ is legitimate. There are plenty of fake security tools that pose as authentic tools just to open security backdoors or make you pay for useless services. Speaking of fake services, you have to be very cautious about the offers represented via Pro Flip Ads. Although they might seem great and beneficial, there is always a possibility they are representing specific third-party advertisers. What if the offers that Pro Flip Ads showcase are not beneficial at all? That is up to you to figure out, but our research team warns that it is more likely that you can save more money by researching online deals on your own.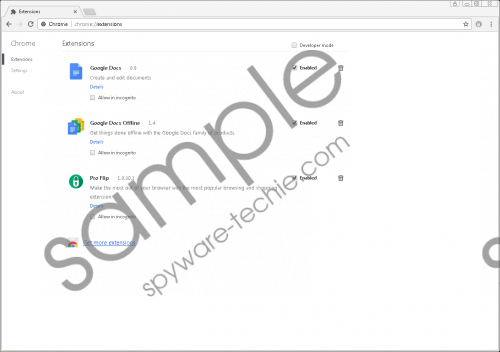 Pro Flip Ads screenshot
Scroll down for full removal instructions
Are you familiar with an ad-supported program called Enhance Pro? It is identical to Pro Flip, and both of them are represented via sites that are identical. We will post a separate report about this clone very soon – if we have not done so already – and if this is the adware you are dealing with, this is the report you need to read. The fact that two identical ad-supported programs were created is quite suspicious. The chances are that their creator is trying to earn more money by promoting third-party products and services, which immediately decreases the credibility of Pro Flip itself. Overall, it is most likely that this tool serves third parties, and this does not do anything for you. On top of that, this adware is likely to spy on you and record information regarding your activity, which is another reason to remove it right away.
Can you remove an extension from Chrome? If you can, do not waste another second to remove Pro Flip. If you do that, you will find Pro Flip Ads removed as well. Besides eliminating the add-on, we also advise resetting your browser to get rid of all traces of this adware. Another option would be to utilize anti-malware software for automated removal. Although it is easy to delete the adware manually, other threats active on your PC might be much more stubborn, and so you might want to use one tool to have them erased at the same time. If you have any concerns regarding the elimination process, use the comments section to start a discussion.
Delete Pro Flip Ads
Launch Google Chrome and tap keys Alt+F.
In the menu on the left click Settings.
Click Show advanced settings, scroll down, and then click Reset settings.
Click Reset to confirm your decision and then restart the browser.
In non-techie terms:
You do not want to rely on Pro Flip Ads to introduce you to beneficial shopping deals because the add-on showing these ads might be affiliated with certain advertisers, in which case, it serves them, not you. If you want to save money while shopping online, we suggest using deals that you find yourself. Also, it is best to use official deals presented directly by the vendor. To ensure that you do not let in suspicious or unreliable software in the future, we advise installing anti-malware software right away. If you do that now, the software will remove Pro Flip Ads along with other potentially active threats. If you want to eliminate the add-on manually, use the instructions shown above.