Do you know what PriveteMacDeal is?
PriveteMacDeal is an adware application that targets Mac users. This browser add-on is created for Safari web browser. If you accidentally install PriveteMacDeal on your machine, you can expect a lot of annoying pop-ups and other types of advertisements on your browser each time you access online shopping malls. It is necessary to remove PriveteMacDeal from the system. The adware application cannot check the ad content, so inadvertently you could be exposed to a number of potential security threats. Do not click an ad if you are not sure where it will lead you.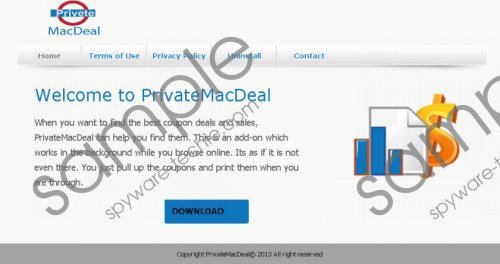 PriveteMacDeal screenshot
Scroll down for full removal instructions
It does not matter which popular online shopping mall you access. PriveteMacDeal works on eBay, Amazon, Target and many other online stores. Technically, this application functions just like any other adware extension out there. After all, it is based on JustPlugIt engine, so it should be related to such apps as RocketCoupon, RoyalShopperApp, QueenCoupon and many others. The main difference is that the aforementioned applications are compatible with Windows OS while PriveteMacDeal is created for Mac.
Another important difference is that adware applications for Windows usually do not have a direct download link even if they do boast of official websites. PriveteMacDeal, on the other hand, can be easily downloaded at privetemacdeal.info. Clicking the download link at this homepage downloads a .dmg file for Mac Disk Image. Naturally, it is not the only way to get PriveteMacDeal onto your computer. Similar to other adware applications, this one can also arrive via InstallRex, Vittalia and Amonetize installers.
It means that you may accidentally install PriveteMacDeal onto your PC when you browse adware-related websites, or when you download a freeware application from a third-party website. We strongly recommend against downloading software from unfamiliar webpages because it may result in serious computer security issues.
As far as PriveteMacDeal is concerned, you will notice that something is not right because the program will display a lot of commercial advertisements on your browser. Most of the ads will be random, but you should not rule out the possibility of PriveteMacDeal tracking your browsing habits as well. A lot of adware applications do that in order to generate customized advertisements, thus increasing the possibility of you clicking the ads and landing on affiliate websites. By redirecting you to various web pages, PriveteMacDeal helps its creators make money via pay-per-click system.
Unfortunately, constant redirections and pop-up ads with third-party content may also lead to serious computer infection. Hence, the sooner you remove PriveteMacDeal, the better. Please follow the instructions below to terminate this application and if you have any further questions regarding cyber security, do not hesitate to leave us a comment below this description.
How to remove PriveteMacDeal from Safari
Press Safari menu button and click Preferences.
Open Extensions tab and highlight PriveteMacDeal.
Click Uninstall.
In non-techie terms:
PriveteMacDeal is an annoying application that may disturb your web browsing habits and even expose you to potentially malicious content. You have to get rid of this program immediately, and then ensure that your operating system and personal information are safeguarded against a third-party exploitation.