Do you know what Privacy Search Plus is?
Our security specialists say that Privacy Search Plus is a potentially unwanted program. However, do not be surprised to find websites that categorize this program as a browser hijacker or a browser extension. The application does fit into all of the mentioned categories because of the way it behaves.
The point is that this application is not a malicious computer infection, but it can still enter your system behind your back. If you did not want to get this program on-board, it is important that you remove Privacy Search Plus immediately.
Perhaps we should take a closer look at the features of this program that do not allow us to label it as a malicious infection. Normally, malware programs are stealthy, and they do not want you to know how they enter your computer. But this program does not even try to hide itself. It has an official homepage, and you can access it at privacysearchplus.com. If that were not enough, the program also has a section at the Chrome web store. Therefore, it really comes across as a legitimate browser extension, and it is very hard to categorize as a malicious security threat.
Nevertheless, the official channels are not the only distribution sources. After all, if you had downloaded Privacy Search Plus from the official homepage, you would not be reading this article now, right? It only shows that the application can also come bundled with freeware, and it gets added to your default browser accidentally. For instance, if you download a freeware application from a third-party website, you could end up installing a number of unwanted programs, too. It is especially plausible if you do not read the steps in the installation wizard carefully. So while you did not plan to have this application on-board, you still initiated the installation.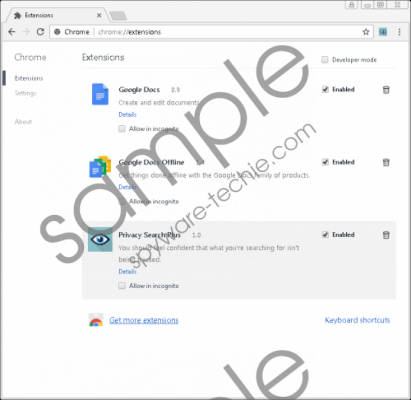 Privacy Search Plus screenshot
Scroll down for full removal instructions
At first, it might seem that Privacy Search Plus offers something useful. The official website says that with this extension added to your browser "you should feel confident knowing that what you are searching for is NOT being tracked." And it is rather plausible that this extension prevents certain parties from monitoring your web searches. However, on the other hand, such applications track your search history themselves as they promote and distribute commercial content to cover their development cost. So while the application may block some trackers, it exposes you to an entire list of other third parties that might prove to be quite dangerous.
Of course, we are not trying to say that Privacy Search Plus wants to infect you with malware. This program simply needs to make money for its creators, and thus it becomes quite vulnerable to third-party exploitation. What's more, it can change your default search engine, homepage, and the new tab settings. If this happens unexpectedly, it is no surprise that some users think Privacy Search Plus is a browser hijacker. On top of that, the application can also modify search results through its service and displays third-party ads that may contain corrupted links.
Third-party content is your biggest security concern when it comes to Privacy Search Plus. Although the chance of a malicious infection is not that big, you could end up installing a lot of annoying adware and freeware applications by clicking those ads, too. Not to mention, third parties will find out about your likes and preferences, and they will be able to bombard you with various commercial offers. Some of these offers will not be as reliable as you may want them to be. Hence, to avoid such turn of events, you need to remove Privacy Search Plus right now.
You can delete this extension by removing it via your browser's settings menu. However, to be 100% sure that you have taken care of all the potential threats, you should also can your PC with a licensed antispyware tool of your choice.
If you need any assistance with freeware removal, please feel free to contact us by leaving a comment below this description. Our team is always ready to assist you, and you should do everything in your power to protect your personal information and your system from malicious exploitation.
How to Delete Privacy Search Plus
Firefox
Press Alt+T and click Add-ons.
Open the Extensions tab.
Delete Privacy Search Plus from the list.
Chrome
Press Alt+F and click More tools.
Open Extensions and delete Privacy Search Plus.
In non-techie terms:
Privacy Search Plus may not look like something dangerous, but this program is an unwanted application that may exhibit certain undesirable features. When a program is there on your computer, and you do not remember having installed it, it is the first sign that you have to remove Privacy Search Plus that program for good. Also, you should not tolerate this application because it could easily expose you to potentially harmful third-party content, and eventually, that could lead to a malware infection.