Do you know what Pricedownloader is?
Pricedownloader is a potentially unwanted application that is classified as adware. It means that it is supposed to display commercial advertisements or any other type of commercial content while you browse the Internet. Pricedownloader is able to do that because the application adds an extension to your browser, and it does not matter which browser is set as your default one – Pricedownloader functions well with Mozilla Firefox, Google Chrome and Internet Explorer. Nevertheless, computer security specialists are forced to recommend against using this application. It would be for the best to remove Pricedownloader from the system due to various security concerns.
One of the main reasons what makes us doubt Pricedownloader is the fact that its official homepage at pricedownloader.info has been suspended by ICANN, and so the main distribution source is no longer available. Nevertheless, users still complain about Pricedownloader being installed on their computer even though they do not remember using an official installer. It could be that you have recently downloaded freeware from third party file hosting websites, such as 4shared, cNet, Softpedia and others. Freeware applications seldom come alone, so whenever you are about to install new apps, make sure they are not bundled with additional programs and they come from original sources.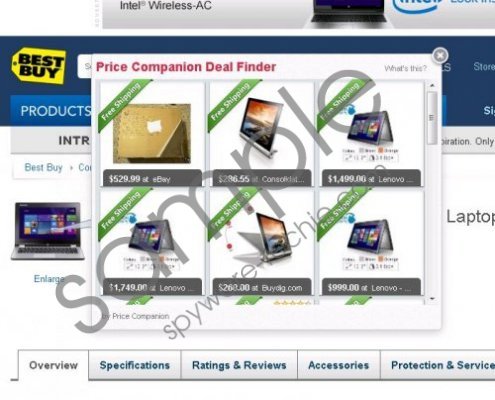 Pricedownloader screenshot
Scroll down for full removal instructions
When Pricedownloader adds extensions to your browser, the application starts collecting information on your web browsing habits. Once the program has enough data to generate your online profile, it will start displays coupons and discount offers on a number of online shopping websites. Most of the time, the coupons and discount offer windows that appear on your browser are delivered for you by "Price Companion". Pricedownloader may present itself as a useful application that can help you save money, but you can never know whether the information on its pop-ups is trustworthy, so your best option in this situation would be avoid clicking anything that has been delivered by Pricedownloader.
Luckily, Pricedownloader comes with an entry on the list of installed program that you can access via Control Panel. It means that it is easy to terminate this application manually. Nevertheless, since the official distribution channel for Pricedownloader is no longer available, it most probably has arrived bundled with other applications, and it is very likely that you have more than one potentially unwanted application on your computer.
Thus, while you remove Pricedownloader, run a full system scan with SpyHunter free scanner and terminate all the other undesirable programs as well.
Uninstall Pricedownloader
Windows 8
Move mouse cursor to the bottom right of the screen.
Click Settings on Charm bar and go to Control Panel.
Select Uninstall a program and remove Pricedownloader.
Windows Vista & Windows 7
Open Start menu and go to Control Panel.
Select Uninstall a program and remove Pricedownloader.
Windows XP
Open Start menu and navigate to Control Panel.
Select Add or remove programs and uninstall Pricedownloader.
In non-techie terms:
Pricedownloader is a program that displays pop-up ads. They are annoying and they may have links that can lead you to dangerous websites. If you want to avoid malicious threats and other unwanted consequences, you should remove Pricedownloader from your computer.