Do you know what Price Slicer is?
Price Slicer is a soon to be released malicious adware program that you should remove if your computer becomes accidentally infected with it. Even though this application has not been released, we still must warn users about the potential dangers it poses based on its privacy policy, terms of use, previously released clones (RopeInSavings, PriceChomper, Sliding Coupons), and generic information i.e. traits that are common to all most adware applications. So, if you are security-minded in individual, you will be interested to know all about this upcoming infection that will take the Internet by storm, but you can prepare your computer to meet the challenge. keep reading to find out more.
The application uses browser cookies to gather information. the developers say that the application can collect non-personally identifiable information. However, it collects the URLs of the websites you visit, and might collect search term that you have entered into the search engine. Therefore, if your search term contains personal information, then it will also be collected and sent to the developers. The developers can also share it with their partners who are considered unreliable.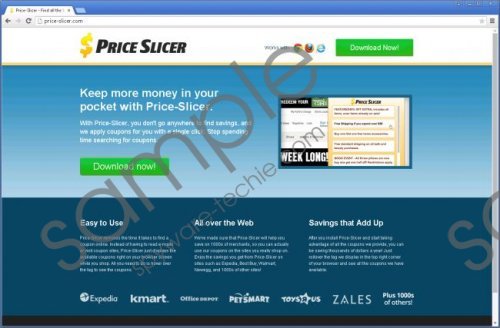 Price Slicer screenshot
Scroll down for full removal instructions
The application uses the per-per-click system in order for the developers to get paid, so they need to collect the information to maintain a steady flow of users to the promoted websites. Price Slicer displays several types of advertisements, including but not limited to sponsored links, banner ads, pop-ups ads, and interstitial ads. As well as coupons, videos, and other offers. The application is known to promote installers of various applications, which we assume they will be either adware programs or even worse – rogue applications that can trick you into paying money to use them. In-text ads can also be displayed. They might confuse the users making them think that the hyperlink is part of the website. Sponsored links may also be shown on Google, Bing, and other search engines. So you should be very wary about of you click when your computer is infected with Price Slicer. The only solution for restoring your computer's security is to remove Price Slicer as soon as possible.
From what we gather, Price Slicer does have a website that would feature a direct download of it, called Price-slicer.com. But we also think that the application will be distributed using software bundles. The bundles should have the option to remove the installation of Price Slicer before initiating the installation itself. Typically you should be offered to uncheck a certain checkbox. The application is compatible with the most popular Internet browsers, which include Internet Explorer, Chrome, and Firefox. However, Chrome should block the application, as the program has been blacklisted by Google.
If Google goes out of its way to block an application such as Price Slicer from installing, then it is clear that the program is malicious and users who use other browsers should remove it if their computers become infected with it. We should not tolerate greedy advertisers who keep tabs on our browsing activities and promote malicious content. We recommend using SpyHunter, an application that will protect your computer and your privacy from all threats, no matter how great or small.
How to remove Price Slicer manually
Windows XP
Click the Start button.
Open the Control Panel.
Click Add or Remove Programs.
Find Price Slicer and click the Remove button.
Windows 7 and Vista
Click the Start button.
Open the Control Panel.
Click Uninstall a program.
Find Price Slicer and click the Uninstall button.
Windows 8 and 8.1
Simultaneously press the Windows key + R.
Type Control Panel in the dialog box and Click OK.
Select Uninstall a program.
Find Price Slicer and click the Uninstall button.
In non-techie terms:
Price Slicer is a malicious program that has been classified as an adware application. We recommend removing it, because it tracks your browsing activities and is likely to promote unreliable content. If you do not want to be subjected to these things then use remove the application manually or give SpyHunter a try. In any event, you should get rid of this program as soon as you can, provided that your computer becomes infected with it.