Do you know what Press Gamer is?
Press Gamer is an adware application. As such, it employs various means to profit from your clicks on third-party commercial advertisements. Adware programs usually promote third-party content without even checking it, so some of the ads delivered to you by this application could be embedded with corrupted outgoing links. Exposure to corrupted third-party content is a straight way to a malware infection. To prevent that from happening, you will do yourself a favor if you remove Press Gamer at once. Thankfully, it is very easy to do, and you will definitely be able to do that if you follow the instructions provided below.
You can find more about the program if you go to pressgamer.com. This official website for the application should make you realize that the application you are about to download is there to help you play online games for free. The main promotional tagline says that with Press Gamer you can get "Free Games on your computer. Play fun games in a single click!" What's more, clicking the download button does actually work, and you can install the program on your PC. However, the official installer bundles a number of freeware applications that could be potentially harmful.
For example, when we downloaded the program from its homepage, we saw that the official installer comes with Search Know, Sweet-page.com, MyPcBackUp, System Healer, and quite a few other unwanted applications. Some of them are browser hijackers, so they can modify your browser settings without your permission. Some other applications are potentially unwanted programs that pretend they can provide you with some useful services so that they could make a financial profit. There might be some other applications bundled with Press Gamer, too; because the installer is region-specific, and so the programs that are bundled with it may differ according to your geographic location.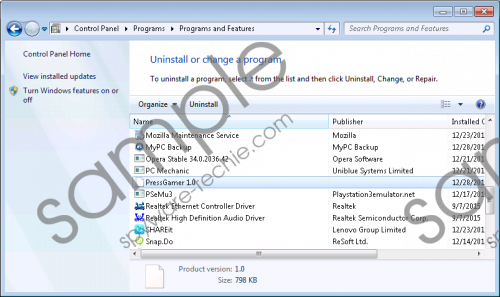 Press Gamer screenshot
Scroll down for full removal instructions
The point is that you can be sure Press Gamer is not the only unwanted application on your PC. Whether you downloaded it from the official homepage (which is highly unlikely) or it came in a software package with some other freeware program, the fact that you have installed multiple unwanted applications on your PC remains. To determine which programs have to be deleted, scan your PC with the SpyHunter free scanner. A full system scan will help you determine which programs have to be terminated to ensure your system's security.
Now you may say that this program is not much of a problem because it is very far from being a regular malware infection. And you may be right, but at the same time, such adware applications are not exactly safe. They collect information on what websites you visit and store it to later share it with third-party partners. This information does not include your logins and passwords, so there is no immediate danger. However, third parties can figure out your likes and preferences and then target customized ads at you when you browse the web. This way, the next time you open your browser, you will be flooded with annoying pop-ups that will try to make you click them.
Each time you click an ad, you help the adware creator's make money via the pay-per-click system. It is absolutely legal, but it may be exploited by cyber criminals, and so there is no guarantee that you would land on a safe website every time. If this application is used by malware developers, you could end up getting infected with ransomware, rogue antispyware, Trojans, and many other dangerous programs.
Naturally, you can prevent that by removing Press Gamer today. You will have to delete the application via Control Panel, and it should be enough to terminate all of its files. However, we would like to remind you that you definitely have more programs to take care of, so do not wait any longer and get rid of all the potential threats that might be present in your system.
If you need assistance with software removal, do not hesitate to leave us a comment below. Also, the most efficient way to terminate all the potential threats is to delete them with an automated antispyware tool. Not to mention that this way you will also protect your PC from similar issues in the future.
How to Delete Press Gamer
Windows 10 & Windows 8.1
Press Win+R and type Control Panel into the Open box.
Press Enter and click Uninstall a program.
Highlight the adware program and select Uninstall.
Windows Vista & Windows 7
Click the Start menu and open Control Panel.
Navigate to Uninstall a program and remove the adware application.
Windows XP
Open the Start menu and select Control Panel.
Double-click Add or remove programs and uninstall the adware program.
In non-techie terms:
Press Gamer is not a useful gaming application. This program is an adware application that has been created to generation a financial profit for its developers. Rather than helping you play online games, the application makes use of you to make money. In the long run, it could also lead to severe computer security problems, so it would be for the best to remove Press Gamer from your computer and invest in a legitimate antispyware tool.