Do you know what Preispilot is?
Preispilot is not a mistyped application name, but an Austrian browser add-on that claims to help you save money when you shop online. But you should not trust this tool because our researchers have categorized it as an adware program; and if they have done so, they definitely had their reasons. The web is full of unreliable and potentially harmful applications, which usually fall into one of the malware categories. We have seen hundreds of similar tools already that want to make you believe that they will show you the best offers. However, most of the time you end up with an ad-supported program whose main agenda is to promote affiliated third parties in order to route web traffic to their sites. Well, that is the source of income for the publishers of this adware, too. Why would it work any differently? But you cannot trust these ads since you never know when you might click on one that takes you to a malicious website. You should remove Preispilot if you would like to restore your system health and safety as well.
This adware has a rather simple webpage at preispilot.com. Preispilot was developed by Adspired Technologies GmbH, which is located in Vienna, Austria. It is possible to install this extension directly from its webpage, but it is quite unlikely that a lot of computer users have got infected this way. We would like to make an important point here. It always pays to take a few minutes and research the tool you are about to download and install. It does not take much, but it can save you a lot of hassle and headaches. For example, if you run a quick Google search on Preispilot, you will see right away on the first search results page that you are dealing with a malware infection that requires removal. If you find positive articles and opinions, and it seems that your target application is reliable, you need to find a reputable website to download it. Otherwise, you might find yourself on a suspicious freeware site, click here and there, and end up with a bundle of malware infections on your computer. As a matter of fact, this is exactly how this adware seems to spread on the Internet. Therefore, removing Preispilot will not be sufficient to restore order on your PC. When in doubt, it is always best to run a malware scan on your computer to see what else may be there to harm your system.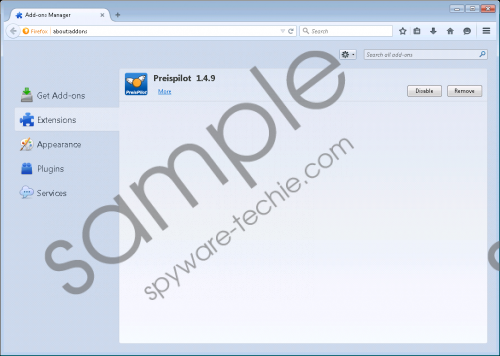 Preispilot screenshot
Scroll down for full removal instructions
Although it is possible that this tool displays some legitimate coupons or best offers, it is just enough if sometimes it shows unreliable ads. You will never know which one is trustworthy and safe to click on. As an adware program, it may also be able to hijack legitimate third-party ads, which is quite dangerous because you will obviously feel safer to click on ads on reputable websites. But with this adware on board, you can never know anymore. So, if you do not want to harm your computer or your privacy, you should not think twice before you delete Preispilot.
If you want to stop the flow of potential threats, you will have to do the following steps. First, locate the uninstaller in Control Panel and run it. But this uninstaller will not make a perfect job and leaves the extensions in Google Chrome and Mozilla Firefox, which you will have to remove yourself as the second step. It is not at all difficult, but we have included instructions below this article if you are unfamiliar with the necessary steps. Please keep in mind that your computer may still be under attack by other malware programs. You will not be safe until you fully clean your PC. If you are not an expert user, we advise you to use a professional malware removal tool, such as SpyHunter, which we have grown to like and trust. With this security tool you can automatically detect and eliminate all malware infections and keep your PC protected.
Preispilot Removal from Windows
Windows 8, Windows 8.1, and Windows 10
Tap Win+I and access Control Panel.
Pick Uninstall a program.
Select the application and press Uninstall.
Windows Vista and Windows 7
Tap Win+R and enter Control Panel. Hit OK.
Choose Uninstall a program.
Select the application and press Uninstall.
Windows XP
Open the Start menu and access Control Panel.
Pick Add or Remove Programs.
Select the application and click Remove.
Preispilot Removal from Browsers
Google Chrome
Tap Alt+F and open Settings.
On the left, choose Extensions.
Choose the unwanted extension and click on the trash can icon.
Press Remove.
Mozilla Firefox
Tap Alt+T and open Add-ons.
On the left, choose Extensions.
Select the unwanted extension and press Remove.
In non-techie terms:
Preispilot is a useless browser extension that wants to appear useful by claiming that it can show you the best deals that are available on the net while you are shopping online. However, our researchers have found that this is yet another unreliable tool that is actually an adware program. Its third-party ads may be annoying, but, unfortunately, they may also pose a threat to your virtual security. Clicking on potentially unreliable ads is always risky because you may land on questionable websites. In order to avoid the unfortunate consequences, we recommend that you remove Preispilot. If you want to protect your computer, you may want to consider downloading and installing a reliable antimalware program.