Do you know what Pracember is?
If you are interested in the removal of Pracember, it is most likely that this suspicious, potentially unwanted program has invaded your operating system. At the time of research, this PUP could only affect users running Google Chrome, but it would be irresponsible to assume that this strange extension could not affect other browsers in the future. Needless to say, if you notice this, you need to delete the add-on from all browsers, and if you need our help with that, please add a comment below explaining your issue. So, why exactly should you consider the elimination of this add-on? First and foremost, it is highly unpredictable because there is not much official information about it, which makes it a potential threat. Second, it has been found to redirect all search queries to a third-party engine, which can be dangerous as well. If you are curious, keep reading to learn more.
If you were not introduced to the suspicious Pracember via pracember.com and the Chrome web store at chrome.google.com/webstore/detail/pracember/kkkhkmpgjdidbhpfcpfpchpldklgagmf, it is most likely that you found this potentially unwanted program carried by a third-party installer. The official source is not very reliable because it does not provide us with any information. For example, if you click the "Terms of Service" and "Privacy Policy" links at the bottom of the page, you are not provided with these statements, and that is because they do not exist. The official website does not even offer an installer. Instead, it promotes the one available on the Chrome web store. We are sure that it is only a matter of time before this installer is taken down as well. The strange thing is that the extension has been downloaded via the Chrome web store nearly 14,000 times, but there are no reviews. Most likely, Pracember is introduced to users via software bundles that are full of random and unreliable pieces of software. Needless to say, if that is the case, all threats and PUPs must be deleted ASAP.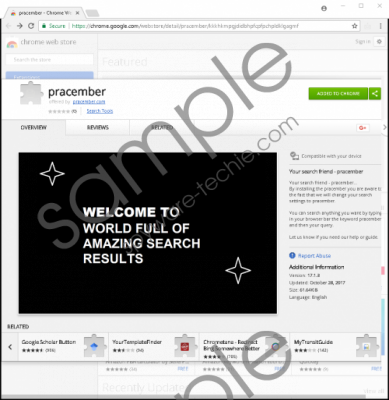 Pracember screenshot
Scroll down for full removal instructions
According to our research team, Pracember could also be introduced to users via pages that they are likely to be redirected to in a strange manner; for example, via corrupted links. These pages could shift to full-screen mode and force you to install the extension. If you do, you will agree to have your search settings modified. If the PUP is installed, move to the "Search engine" section of the chrome://settings/ menu to see if this is said: "pracember is controlling this setting." Needless to say, if that is the case, you will be able to modify your search provider only if you remove the suspicious extension. Well, what is wrong with the search tool offered by the PUP? Unfortunately, it redirects to a third-party search engine – in this case, to Google Search – and, in the process, it can collect information and, potentially, add sponsored links as well. Our research team does not recommend interacting with this search tool.
Now that you have the reasons to delete Pracember, you need to decide if you are going to go through with it. It is strongly recommended that you scan your operating system to see if other threats or potentially unwanted programs exist. If they do, using an anti-malware tool that can erase all unreliable pieces automatically might be the best choice. If you only need to remove Pracember, you can follow the instructions available below. As you can see, it is enough to delete the unwanted extension to have the suspicious search tool eliminated as well.
Remove Pracember
Launch Google Chrome and tap keys Alt+F.
In the menu on the right select More tools.
Click Extensions to find all installed extensions.
Click the recycle bin next to the extension you want to eliminate.
Select Remove.
Perform a full system scan to check if you need to eliminate anything else.
In non-techie terms:
It does not matter whether you have downloaded Pracember yourself or if it came unnoticed. What matters is that this potentially unwanted program does not offer beneficial services, and its activity could lead to security issues. It is strongly recommended that you delete Pracember from your web browser, and the guide above shows how to do that on Google Chrome. If other infections exist, you will need to refer to different guides to learn how to eliminate them yourself, or you can install a legitimate anti-malware program to have the threats and the PUPs eliminated automatically. If you have questions about the PUP or its elimination, do not hesitate to start a conversation in the comments section.