Do you know what Power Cleaner 2018 is?
Power Cleaner 2018 claims to be beneficial software that can clean and speed up the sluggish computer in no time. In other words, it is promoted as a beneficial PC optimization tool. As research has shown, it really scans the system and lists issues that might affect the system's performance in a negative way. In this sense, it is similar to AutoClean Pro 2018, Win PC Repair 2018, and PC Cleanup 2018. Even though the application looks completely decent and beneficial, our experienced team of researchers has categorized it as a potentially unwanted application. Undoubtedly, they have their own reasons to put it under this category. Read this article first before you install Power Cleaner 2018 on your computer because you might soon change your opinion about it. You should not install this piece of software if you are not going to purchase its license too because its free version is only a diagnostic tool that will not fix a single issue for you. If you happen to find Power Cleaner 2018 installed on your computer without your knowledge, or you have changed your opinion about this tool, you can delete it at any time. Since this application is not a harmful threat, you will eliminate it from your system without difficulty – it can be erased using Control Panel.
Once Power Cleaner 2018 is installed on the system, it performs a system scan to find issues that might affect the system's performance in a negative way. This PC optimization tool should detect active malicious applications, discover items that impact the system's performance, locate items that impact the startup time, and find items that affect the performance of all installed programs. Once it finishes scanning the user's computer, it shows the total number of items that might slow down the computer. Unfortunately, the free version of Power Cleaner 2018 cannot remove/fix any of them. If you click the Start Repair button after the system scan, you will be asked to "activate your copy of Power Cleaner 2018." The price of its license might slightly vary, but it cost EUR 23.95 at the time of writing. You might also be offered a discount. We cannot confirm that Power Cleaner 2018 is the best choice when there are so many other beneficial PC cleaners/optimizers available on the market, so we would say to think twice before entering your credit card information to complete the purchase. If you decide to use another program instead, it would be best that you erase Power Cleaner 2018 fully because this potentially unwanted application might show pop-ups with the intention of encouraging you to upgrade the program and boost your computer's performance. You will sooner or later find all these pop-ups extremely annoying, believe us.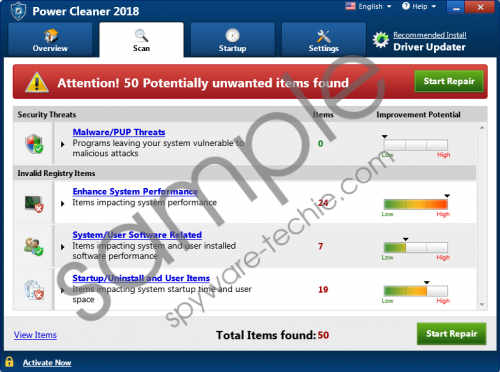 Power Cleaner 2018 screenshot
Scroll down for full removal instructions
Power Cleaner 2018 is not a popular piece of software, but users might come across its official website while searching for a PC optimization tool using the search engine. Since there is a source it can be downloaded from directly (https://www.advancedsyscare.co/), there is no doubt that some users download and install it from this website consciously. Alternatively, it might be promoted via advertisements, specialists say. In other words, an advertisement promoting this application might be displayed to you when you open a certain website. In some cases, one single click on the advertisement might lead to the installation of the promoted program. It is not always easy to distinguish good programs from the bad ones, so you should always keep an antimalware tool active on your system.
You will delete Power Cleaner 2018 easily and quickly if you decide that you do not need it. As mentioned, this piece of software can be removed using Control Panel. If this does not say anything to you, please follow the removal guide you will find right below this paragraph.
Delete Power Cleaner 2018
Windows XP
Click Start.
Select Control Panel.
Click Add or Remove Programs.
Locate the Power Cleaner 2018 entry and select it.
Click Remove.
Windows 7/Vista/8/10
Press two buttons on your keyboard: Win+R.
Type Control Panel.
Press Enter.
Click Uninstall a program.
Select Power Cleaner 2018.
Delete it from your system.
In non-techie terms:
Power Cleaner 2018 is presented as a PC optimization tool. It really works as a system cleaner/optimizer, but it will not fix any issues until you upgrade it, i.e. purchase the license of the program. A free version of this program promoted on its official website will only scan your system to find issues that need to be fixed. If you do not need a diagnostic scanner, you should not install Power Cleaner 2018 on your computer.